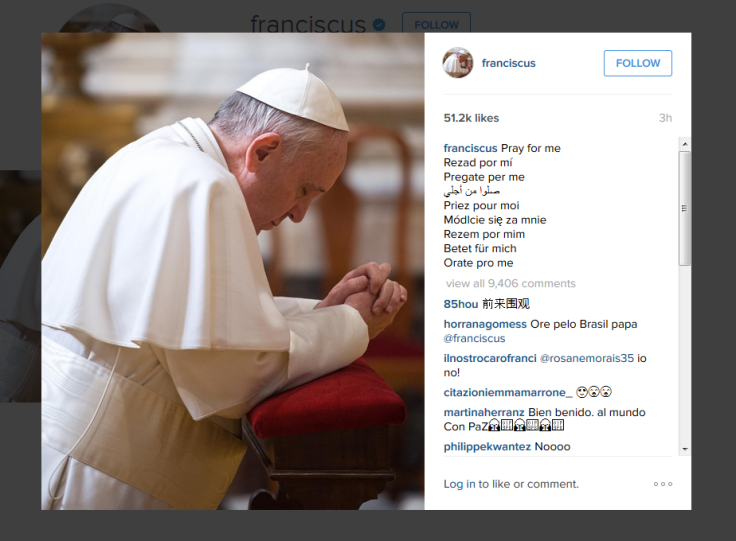 The leader of the Catholic Church Pope Francis has joined Instagram. The Pontifex Maximus has so far posted one shot to his @fransiscus account – not, sadly, a selfie – of him kneeling with his eyes closed, presumably praying. It is unclear at this time whether or not a filter was applied to the snap.
Francis has already had some moderate success with other social media platforms. He joined Twitter three years ago, and has managed to amass more than 25m followers across accounts in nine different languages – 8.89m of them in English.
The liberal bishop of Rome let his nearest and dearest know about this new venture into photography, in a tweet he posted this morning. He wrote: "I am beginning a new journey, on Instagram, to walk with you along the path of mercy and the tenderness of God."
Kevin Systrom, the chief executive of Instagram, was present at the Vatican City to witness the Pope's historic first steps on the site, and possibly to teach him how to use a hashtag.
He wrote: "Watching Pope Francis post his first photo to Instagram today was an incredible moment. @franciscus, welcome to the Instagram community! Your messages of humility, compassion and mercy will leave a lasting mark."
In truth, Francis, whose forward-thinking reputation has lead some to dub him "the cool Pope" neither composes his own tweets nor posts his own camera work to Instagram. Instead, the Vatican has a social media department to do it all for him. The pictures are selected from L'Osservatore Romano, the Vatican's daily newspaper.
"In this way we can show those aspects of closeness and inclusion that Pope Francis lives every day," Monsignor Dario Viganò, the prefect of the Vatican's Secretariat for Communications, said.
"Instagram will help recount the papacy through images," he added, "to enable all those who wish to accompany and know more about Pope Francis' pontificate to encounter his gestures of tenderness and mercy."