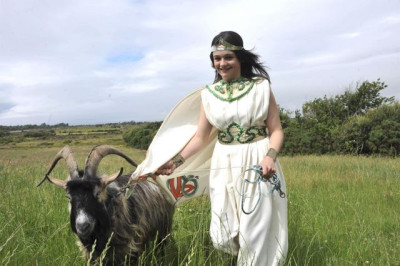 At the end of a chase lasting several days, a wild mountain goat has been caught and anointed king of the town of Killorglin in Ireland's county Kerry.
In an annual tradition, a team led by chief goat catcher Frank Joy scrambled up the Kerry mountains to find a goat-king for the Killorglin Puck Fair - Ireland's oldest street fair.
The fair, which dates back to the 17th century, celebrates the fabled heroism of a goat who, according to legend, alerted Killorglin's population to the imminent arrival of English troops during Oliver Cromwell's campaign in Ireland.
The new king was caught by ace snatcher Paul Quirke, after a gruelling pursuit which featured several near misses from the chasing pack.
"The terrain was very rough and soft which made things difficult, but Paul is a strong man and is very experienced [in catching goats] at this stage," Joy, who has been participating in such chases for 22 years, told reporters.
Speaking about his town's hirsute new monarch, Joy added: "He is incredibly energetic and muscular. He's really up for it and it's clear he has got what it takes.
"This is a very healthy goat, blue in colour with a horn span of over 30ins and a grand hide. He's eight years old and will make a beautiful puck to be admired by all attending the fair."
Is it unclear how Joy found out the goat's age.
Gaelic doppleganger
The goat has already been named Paul, due to his resemblance to Gaelic footballer Paul Galvin, and will soon be crowned by a local school girl named Queen of Puck.
The Killorgin Puck Fair will last three days, and include horse and cattle fairs. More than 100,000 people are expected to attend.
King Paul will oversee everything from a small cage built on a high stand in the middle of the town square.