The story of how we came to be in Oviedo for their 2-0 win over Atletico Madrid B on Sunday night was certainly a whirlwind one. It all began with a few tweets sent by highly-respected football journalist Sid Lowe, who upon seeing his beloved Real Oviedo on the verge of bankruptcy and in desperate need of money, pushed for football fans around the globe to hand over €10 per share and take part ownership of the club.
It was a long shot, considering the lack of international draw that Oviedo currently offered. They are no Barcelona or Real Madrid, and can't boast beaches and sand that the likes of Valencia and Malaga can to sugarcoat the possibility of joining the football team in their fight. But somehow the momentum picked up and Oviedo achieved their goal of raising over €3 million in around three weeks to save the club and make for a whole new beginning.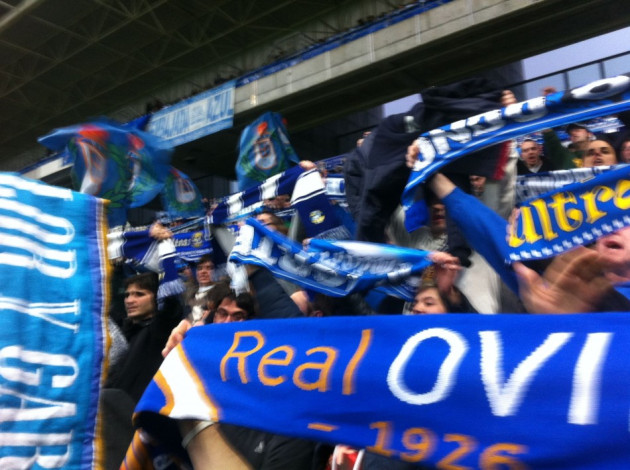 It was a side I had never heard of, in a town I had never heard of, and my knowledge of Spanish football, like many, mostly surrounded the European competitors, La Liga and a decent contribution to the debate of Messi v Ronaldo. But suddenly I found myself checking the scores of the third division, researching the financial troubles and tricky chairmen the club have endured over the past 10 years and attempting to understand an extremely complicated-looking system of relegation and promotion below the Segunda División.
After the shares were bought worldwide, and the club was subsequently saved, little more was said in the international press about Oviedo's future and many of us felt that this concluded a feel-good chapter in Spanish football. But a trip to the northern Spanish city at the weekend showed me that this is only the beginning of a whole new chapter for the club, and that our relationship with it as foreign shareholders can go a lot further than a pretty certificate hanging on the wall.
Arriving in Oviedo late on Saturday night, myself and a shareholding friend were whisked into a crowd we could hear from blocks away as we went in search of fellow foreigners who had come for the same reason. Unfortunately the beer had run out, so we were escorted by some locals to the pub the fans frequently use around match times.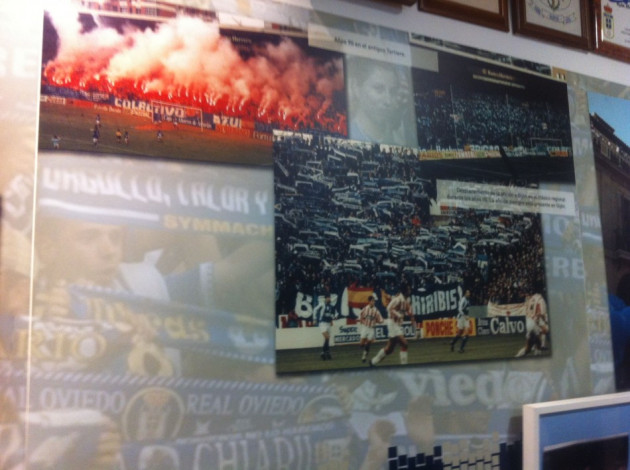 The bartender was one of the founding members of the Oviedo Ultras, and though he was surprised I wanted a vodka-lemonade rather than a beer, he happily poured a ratio of half-and-half into a pint glass for a dangerous price of €3.
The rest of the night is blurry at best. There were countless fellow shareholders with unique stories behind their purchases- from a Liverpudlian who accidentally added a 0 to his cart at the checkout and bought 100 shares instead of 10, to the dedicated Fulham fan who has followed his team around Europe and is already planning another Oviedo trip this season. There was a Russian journalist living in Spain who took on the cause as well, and countless English lads and ladies looking for another exciting football trip to add to their schedule.
Meanwhile, Ultras were buying us drinks, and Oviedo fans continually pulled us aside to explain just how much it means to them that we helped save their club. Most didn't speak much English but the sentiment was clear; and it's hard to imagine this bar, which is packed until at least 3am when we stumbled home, without the football side binding the patrons together.
But that was only the beginning of just how important this club is to the community. On the stadium tour the next day, we saw tunnels and changing rooms that are half finished, seats that are still grey with the look of a construction site and makeshift food and drink stands. The club had high hopes as they approached the 21st century and were building a stadium to match, but that was before financial trouble left them in the fourth division in 2003.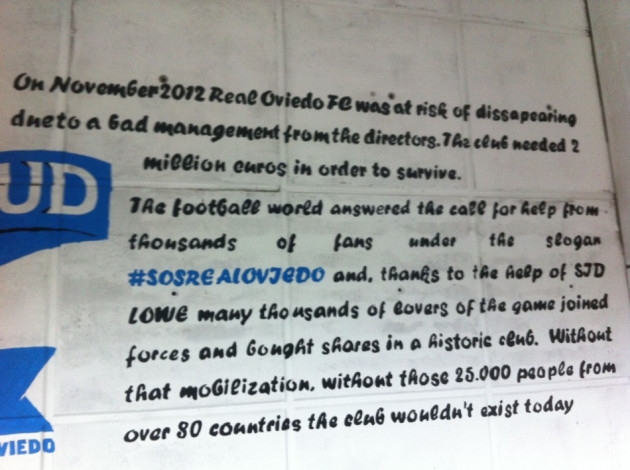 We may complain about some of the chairmen who have driven English clubs into the ground, but not many would seem as truly awful as Alberto González. In 2006 he took over Oviedo, and helped run the club to the brink of complete destruction. In December 2011 he reportedly fled to either Cuba or Panama to avoid facing warrants for his arrest. And legend has it that one of the chairman around the same period entered the changing rooms drunk to tell the players to win the match for him. They were rather confused not only by his message but who he was in the first place; this was because he had accidentally entered the rival's changerooms.
Surrounding these owner's pictures in the inner sanctums of the stadium was, ironically, a trophy room full to the brim. It left us wondering what would have happened to the achievements if the club had folded? Those fans who so sincerely spoke the night before about their passion for Oviedo, it didn't just stop with them; the club has a glorious history dating back to it's founding year of 1926, and for those fans who spray paint the banners; decorate the walls of the stadium and cheer their team every game, their parents and grandparents have done the same.
Already feeling so grateful for the treatment we'd received from the fans, their show of gratitude towards us didn't stop; as kick off time approached at 18:45, the Oviedo supporters also unfurled a special banner in our honour, a gate in our name, three walls in the stadium dedicated to our presence and a constant wave of support for us throughout the entire game.
At one point in the game, Hastings fan and resident Michael Hayler found himself in the middle of the Ultra fans, with microphone in hand, teaching a tune known well to us English football supporters - a simple repitition of 'we are Oviedo'. It didn't take long for the Spanish to catch on, and within moments we were singing as one.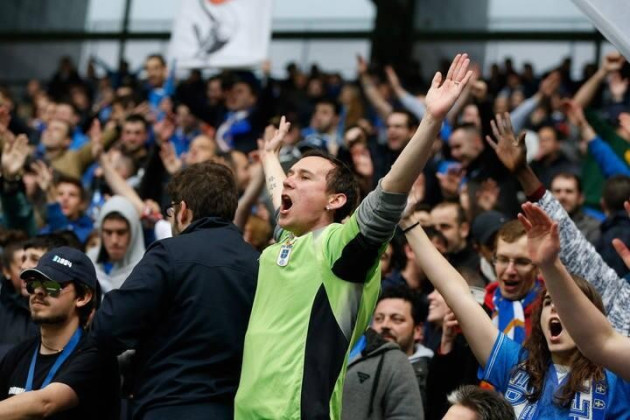 While the result was rather irrelevant, a 0-0 draw was never going to be a favourable outcome. We all hoped for just one goal to celebrate, and in the 84th minute those dreams came true thanks to Josep Sene's strike. Just as the supporters were starting to calm down, Diego Cervero struck again in the 86th minute, falling to his knees directly right in front of the fans in complete ecstasy.
The win keeps Oviedo in the fight for a play-off place. Should they fail to overcome first-placed Tenerife by the end of the season, they must play a series of play off matches in order to earn promotion. But it's a long way to come, having nearly folded last November, to even be considering promotion five months later.
Leaving the stadium after the game was over, I felt a serious urge to book more flights for the next week, and the week after that, and the week after that. We hadn't followed this club before, or been to this town, but within 24 hours we'd become a part of Oviedo's 33,000-strong family.
If you were one of the many who put your hands in your pockets for Oviedo when they were in trouble, make sure you get to a game. If you didn't, make sure you get to a game anyway. This is a club who has been through the worst of times, and is now a contender for some serious success. And it's not through some rich owners swooping in with no connection to the club, deciding to use their name as a vehicle for advertisements for their latest airline or a grab for tourism. It's through the hard work of everyone locally, coupled with the creation of a new global community, which makes it all possible.
For more Oviedo chat, follow Vanessa Keller on Twitter here.