A hundred years after the start of the First World War in 1914, more than 500,000 men who lost their lives on the battlefields of northern France are being reconciled in a giant ring-shaped memorial that floats over the site of one of the bloodiest conflicts of the five-year long war.
The Ring of Memory, designed by architect Philippe Prost is to be inaugurated on 11 November – Remembrance Day.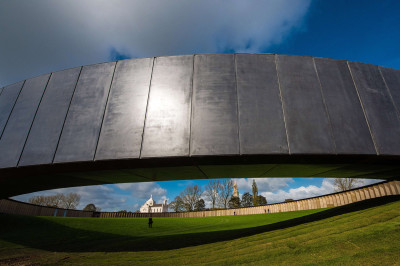 Unlike other First World War war memorials, the Ring of Memory seeks to unite former enemies, paying tribute to fallen soldiers from every country involved in the five-year conflict. The names of British and German soldiers who once looked at each other across No Man's Land are united.
More than 580,000 names from both sides of the war are etched onto the three-metre high walls of the memorial, arranged not by nationality or regiment but in alphabetical order to give a sense of the scale of the human suffering.
Some very common names are repeated many times over – soldiers with the surname "Smith" take up three of the 500 panels – and the effect is both to shock the visitor at the scale of the destruction, but also to help commemorate personal sacrifices.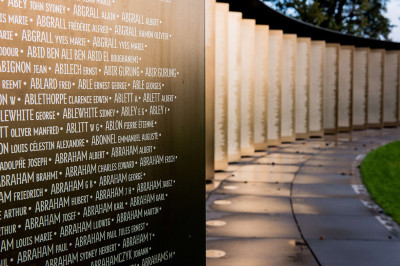 The Ring of Memory is only for those soldiers who died in the modern-day French region of Nord-Pas-de-Calais, so it does not include 10 million soldiers or 7 million civillians more who lost their lives in neighbouring Belgium, in other battles such as the Somme and Verdun, and across Europe during the conflict.
Architect Philippe Prost said the form of a ring was chosen to give a sense of unity to the names of fallen former enemies.
"I was thinking about the rings you make when you're a child, or a human ring when everyone holds each other's hands in a sign of fellowship, and that seemed to me like the image, the form, best suited to speaking about these 600,000 soldiers killed in the Nord-Pas-de-Calais region, and who today are brought together all in one place ," he said.
The site is on the edge of the Notre-Dame de Lorette French war cemetery, itself containing the bodies of over 40,000 soldiers, and intended to be the focal point of a region peppered with British, German, Polish and Czech memorials, to name but a few.