Not content with waiting for the messages entrenched in London 2012's legacy to be delivered themselves, Paralympic gold medallist Richard Whitehead has taken matters into his own hands.
Fresh from another T42 200m success at the IPC World Championships last month, the 37-year-old will rekindle his relationship with marathon running this week, as he prepares to embark on his trek from John O'Groats to Land's End to complete a marathon a day for 40 days.
Whitehead's plan to burst the bubble in which sportsmen and women often become trapped in is ambitious, but that is nothing the Nottingham-born sprinter has ever lacked. The double leg amputee was initially robbed of his chance to compete at London 2102 when he was deemed ineligible for the Paralympic marathon after he was told he was not allowed to compete alongside upper-body amputees, despite having no legs seen as a greater disadvantage.
Undeterred, Whitehead turned to the 200m T42 athletics event, a drastic change of pace but one that did little to subdue his Paralympic dream as he collected a gold medal after running a world record time of 24:38 seconds. As a sprinter or a marathon runner, Whitehead has excelled at the highest level and having been given the platform from London 2012, is now ready to begin the challenge he describes as "the biggest thing I have ever done."
That would be the small matter of the "Richard Whitehead Runs Britain" challenge, where he will run a marathon a day from August 13 to September 23 to raise money for Sarcoma UK and Scope. The gold medallist will cover a staggering 977 miles as he runs the length of Britain, beginning his expedition in Inverness down to Truro in Cornwall.
But what is so profoundly unique about Whitehead's challenge is that he won't be alone. People across the country are encouraged to join the runner as he passes through their towns and cities as he attempts to bring his idea of what the Paralympic legacy should be to the nation.
"The magnitude of it makes this the biggest thing I have ever done," Whitehead told IBTimes UK. "It has never been done by a Paralympic athlete before, especially not a gold medallist. I have been an active sprinter for most of the summer and I have changed my training to accommodate this kind of challenge, but the importance of London 2012 and the legacy that came with it is what makes this run so important.
"I feel there is still a big opportunity for me to run on the roads again where you don't have to purchase a ticket for entry, whereas if you were going to the Olympic Stadium last year that had to be done. Sport is for all, the inspiration people can get have without having to dip their hand into their pocket to pay for a ticket is really important.
"Not everyone could afford to buy their ticket to get down to London for the Paralympics or the Olympics, but now the case may be I will be running through their community where they might want to come out onto the road and see an Olympic athlete do their thing and perhaps gain some inspiration."
Fuelled by his compulsion to deliver what he feels the legacy of London 2012 should be across the country, Whitehead's inspiration for his very literal cross country run comes from the efforts of Terry Fox. An athlete and a humanitarian, Fox embarked upon his own expedition in 1980 having had one leg amputated, crossing Canada to raise money for cancer research. Unfortunately, Fox succumbed to secondary sarcoma and died before he was able to complete his challenge.
Whitehead's diverse athletic ability may have been both a blessing and a curse in his preparation for his own cross country challenge. After being told he was unable to compete in a Paralympic marathon, he reshaped himself into a gold medal winning sprinter. Earlier this year he got back to his roots, lapping up the capital's experience once again as he competed in the London Marathon, but it wouldn't be long before he was gearing himself up for sprints once again.
He added another world title victory to his collection at the IPC World Championships in Lyon in July, clocking a time of 24:79 seconds in the T42 200m, despite having broken one of the feet of his prosthetic blades in training the week prior and suffering from a quad muscle injury.
A yearly regiment that deviates between such athletic extremes could prove to be a colossal headache for others, and an even bigger one for their trainers, something Whitehead acknowledges, but coolly looks beyond.
"It's tough. It's not easy when you are going from being able to run 90 miles a week for your marathon training from going to three sessions at the track a week. It's tough on your energy levels, and it's a totally different mentality of what athletes should do. To try and talk to your coach on what you are going to do in your career, and to then say, 'Oh by the way I'm going to run a 1000 miles at the end of the season', they'll think you're crazy. But for me my team has brought into what I want to do and the reasoning behind that."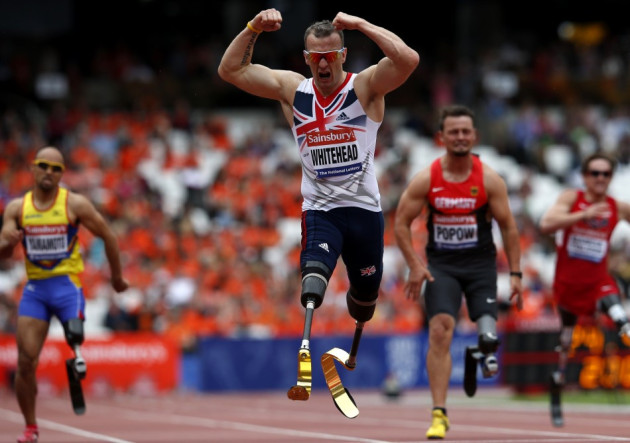 With the likes of Aled Davies, Jonny Peacock and Whitehead having just returned from Lyon with another array of accolades and with the World Athletics Championships currently taking place in Moscow minus one Jessica Ennis-Hill, it has been back to business as usual for many of those who won our hearts, admiration and reverence last summer. But on these shores, the eternal buzzword of 'legacy' continues to draw various definitions, attitudes to what it means and whether there is anything at all to be drawn from it.
Amid the positivity, there is concern. Long jump hero Greg Rutherford, one of last summer's most revered achievers whose athletic acumen and dynamic personality saw him rightfully adorned after his 'Super Saturday' exploits, has drifted out of the public eye and was dropped by his sponsor Nike.
Gold medallist Helen Glover suffered a similar fate, and now believes rowing may have missed the boat to capitalise on the success London 2012 shed, with the legacy of the sport she shone in last summer yet to reap the benefits. At a grassroots level, the stage in which much governmental attention was afforded while euphoria still reigned is in trouble, with the Olympic legacy on school sport described as being on "life support" by MPs.
While not painting quite a pessimist picture, Whitehead is insistent that more needs to be done to bring sport and the athletes who have breathed personality into it closer to people.
"Legacy has been a word that has been banded around a lot," Whitehead continued. "For me legacy is somebody who is an athlete whose gained a tracksuit that represents your country, which has given them the responsibly to spread those kind of messages within their community. Now whether you are successful or not is irrelevant, what is important is if you are out there spreading key messages and opening up those opportunities for those around you.
"There is always more we as athletes can do. It's not just about the facilities that have risen up since the Games, they are not the true legacy. Those facilities will eventually become old and disused over time, whereas personalities and athletes become role models and icons within their community. More should be done to support athletes to deliver those messages in Great Britain.
"Sport will benefit. I think athletics with the high profile it garnered from Team GB's efforts will greatly benefit while other sports such as swimming, it may be harder. As we've seen from recent championships, we've struggled, but that's because the people within the sport really need to step up to the plate and really push the development side of the sport.
"I am a big believer of supporting the developmental side of sport, whether it be recreational swimming or recreational athletics, that's where you get your next generation of athletes. And through that support you will find those capable of high level performance. I don't think there is any short term fix to get to that level you need to sow the seeds at an early age."
While there is concern for the future growth of sport the legacy of the Games so brazenly boasts about, setbacks have already occurred. An overhaul to the event schedule of the 2016 Rio de Janeiro will deny Great Britain's Aled Davies the chance to defend his F42 discus title in three years' time, one of the two events the Welshman won a gold medal in last August.
The situation draws slight parallels to the one where Whitehead was forced to go to the court of Sport Arbitration in 2011 when he was denied the chance to succeed in a marathon race. In his scenario, he opted for a change of pace in quite a literal sense, and believes the nature of disability sports means there is always lots of room for variation and adaptability.
"I feel athletes just need to move on in those circumstances," Whitehead continued. "Aled did really well and I know how upset he was that he can't throw the discus in Rio and that's very unfortunate for him as a person but within athletes and within sport, things move on.
"It's not necessarily the right decision, it was a similar situation with my marathon, but as the case is with any athlete you need to be dynamic enough to move on from that event. Aled has his shot put which he's also number one with, so that is something that he is coping with and having to change his whole perception of how the Paralympics sets in his life.
"Sport is too powerful and entity of life, things like scheduling exchanges play a very small part in that. But there isn't a Paralympic event for every person within every event, hence the reason why I am taking on this challenge. It's something very close to my heart and gives me the chance to engage with a lot of people running through communities and really showing that the power of sport is not just about the Paralympics or the Olympics.
"Sometimes in sport you find yourself within your own little bubble, where it's me, the competition and the Paralympics, but when there is a wider aspect of life and sport, and I think sometimes you just need to take a step back and really think about the importance of what is going on around you."
Visit www.richardwhiteheadrunsbritain.com to sign up to run alongside Rich for part of his run, or simply to support the run via a donation to help him reach his target of £1 million.
Please donate here: http://uk.virginmoneygiving.com/RichardWhiteheadRunsBritain