When Maximuscle invited me to spend the day at Surrey Sports Park with England and Northampton Saints second row Courtney Lawes I had no idea that I was about to gain some first-hand experience of what it takes to be a professional rugby player. I imagined a day on the sidelines, watching the 24-year-old go through some drills, or catching a quick word in between sets in the gym. I certainly wasn't prepared for a day of heavy lifting, extremely competitive touch rugby and endurance exercises in the pouring rain.
This was about learning the hard way and after picking up a few tips from new Harlequins signing Paul Doran-Jones and British and Irish Lions Fitness Coach Paul Stridgeon, I was able to get through the day without collapsing in a heap. But this was just a taste of what these incredibly powerful athletes go through on a day-to-day basis. To be able to put their bodies on the line on the rugby field, they push themselves to extreme measures both in the gym and on the training pitch.
Like in so many sports, much of the hard work is done in the gym so our first port of call was to meet up with Worcester Warriors head of strength and conditioning Stuart Pickering who gave us a sample of the exercises used on a daily basis.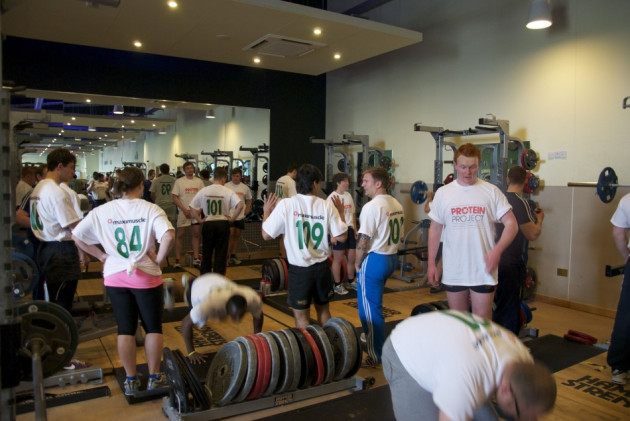 Exercise number 1 -
Load the bar with 10kg on each end and start with 5 deadlifts, followed by 5 raisers [press the bar straight above the head and keep your stomach tight], 5 squats and then finish with five press-ups on the bar. Continue this for five sets and try to add on weight each time.
Paul Stridgeon says: "This is the type of start to a session we would do on a Monday as we like to do a full strength session with the the players at the start of the week. We want to involve the whole body so there will be lots of whole body lifts and squats. We try to do around five sets and go for heavy weight so they may only be doing around three repetitions."
Exercise number 2 -
With the same weight do 3 squats, immediately followed by five burpees. Aim for between five and eight sets.
Stuart Pickering says: "This one is all about technique. We want you to go really slow with the squat in order to engage the muscles. You should grip the floor with your toes and make sure you have a nice straight back as you lower the bar. Keep it controlled and really focus on making sure you're form is correct. The burpees are great for explosive power and you should really try and gain as much height as possible on the jump."
Exercise number 3 -
Time for the bench press so load the bar with 70kg and do three reps, making sure to pause as the bar hits your chest and then explode up - immediately follow that with five clap press ups. Repeat for between five and eight sets and try and increase the weight each time.
Paul Stridgeon says: "The bench press is one of the most important exercises for rugby players, along with the clean and jerk. We would normally look to do five sets of three reps and there are some guys who can bench as much as 200kg. In fact Manu Tuilagi has now got his max up to 190kg."
This was merely a warm up that gave us a glimpse of some of the exercises an international team will perform up to three times a week. Stridgeon admits it can get pretty competitive in the gym with guys squatting close to 300kgs and deadlifting the same amount. Doran-Jones is even more upfront as he describes lifting in the gym as a "d**k measuring competition".
"At Saints we have a leaderboard so there is a name and shame process. It's competitive but it's really good for banter. Compound movements are really important so squats and clean and jerk are massive. With cleans, you are working on stability, your core and coordination, plus you get massive speed gains from it as well," explains the England prop.
No Pain, No Gain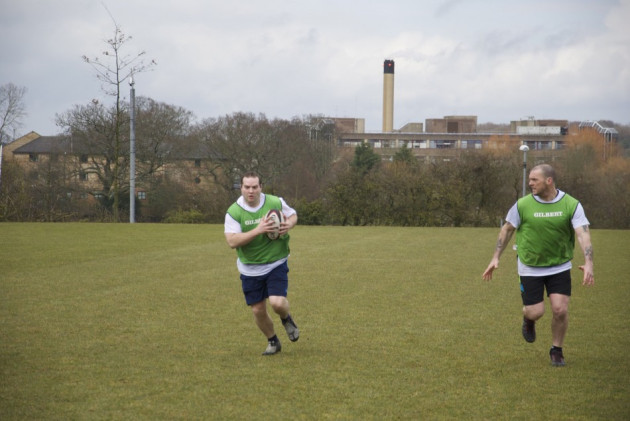 After the weight session it's all about recovery and a Maximuscle shake is immediately on offer. It is well needed as next up it's time to lace up the boots and take part in a gruelling 45 minute session with coaches from London Wasps. Here we work on handling skills, running lines and then we have an ultra-competitive game of touch rugby. Every time you make a tackle you must leave the field of play, making for some interesting scenarios and some serious effort being put in from the remaining defensive line.
This is just a taster session to teach us rank amateurs a few skills but Stridgeon explains how international players will have similar sessions throughout the week.
"Rugby sessions on a Monday tend to last around 45-60 minutes and that is after a hard gym session. Tuesday will be a double rugby day and there will probably be a body weight session thrown in there as well. Wednesday will be a rest but on Thursday we'll have another session in the afternoon which will last around 40 minutes which will be very sharp and we'll have a tiny bit of contact.
"Friday is the captain's day and we will tend to have 30 minute sessions just to get the lads ready for the game on a Saturday. It won't be very intense, but there will be plenty of drills so lineouts, scrimmaging and kicking."
Endurance is key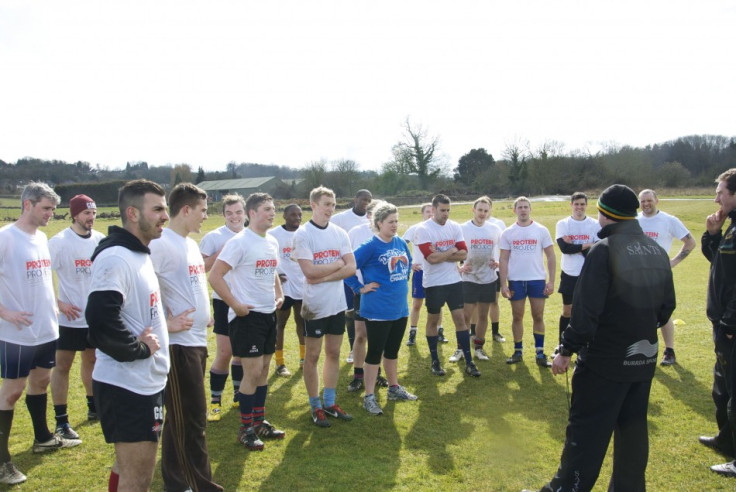 The final session takes place in the pouring rain and it is the one I've been warned about. This final workout is about endurance and it works just above every muscle in the body. Back outside, with the rain lashing down, we are put though our paces while Lawes and Doran-Jones struggle to keep the smiles from their faces. They are used to completing these sessions on a near daily basis, but for an unfit journalist, this is a serious challenge.
This conditioning and fitness test sees us pulling and pushing sleds loaded with weights, creating a wave motion with thick, heavy pieces of rope tied to the posts, flipping huge tyres and flinging ourselves at tackle bags. It is a draining one hour session at a high intensity that leaves you gasping for breath. But as I find out, keeping players on their toes with new exercises is vitally important.
"A lot of the guys have got into the wrestling," explains Stridgeon, who comes from a freestyle wrestling background. "A lot of them try to take me down and they've liked it because we put a lot into our training because it is a massive part of the game and very specific to rugby.
"We don't just let the boys wrestle free, but the sumo pushing exercises, such as pulling rollers or tug of war, are good exercises. People think the running is the most fatiguing part of the game but it's not, it's the contact, so we have to work on that."
Before I leave, exhausted, but with a serious appreciation of what it takes to train wlike a professional, I once again bump into Doran-Jones who gives me some more tips for building muscle and improving your overall fitness.
"We spend a lot of time in the gym and we'll start off with some squatting, then perhaps a hex bar deadlift, that's a good one for the big boys. We'll also do box jumps, as you don't always want to go for strength. Perhaps it will only be three or four reps and the box jumps would be two or three.
"After that we might do a finisher, so on the board the fitness guys will write down a little circuit which might be 30 seconds on watt bike, then skip for 30 seconds and finish with eight burpees. We'd do at least four sets of that, and I can assure you, all the boys hate burpees."
If you want tips on how to train and how to manage your nutrition then make sure to check out the Protein Project at www.maximuscle.com/proteinproject