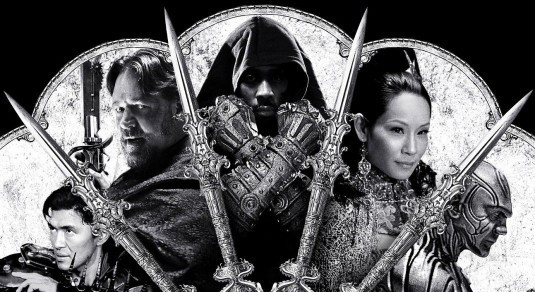 Warning: Footage contains strong violence and gore
The first trailer has been released for The Rza's martial arts action directing debut The Man With the Iron Fists.
Presented by Quentin Tarantino, the film made by the Wu Tang Clan rapper also stars Russell Crowe, Lucy Liu and Pam Grier.
The Wu Tang Clan's rap albums were packed with references to classic kung fu cinema and The Man With the Iron Fists looks like Rza's own homage to his favourite film style.
Hostel creator Eli Roth shares script-writing duties with Rza and the story follows a village blacksmith in feudal China who must take up arms and defend his home as warring factions do battle.
The trailer makes it clear that this is will be a non-stop action film, mixing fantasy and martial arts choreography. WWE wrestler Batista also joins the cast as a warrior with the ability to coat his body in metal - which comes in useful in a fight.
The trailer was released by IGN, the site which also released the first image (seen in the trailer) of RZA literally punching a man's eye out of his head. Clearly this will not be a film that focuses on subtlety.
Rza has been dabbling in cinema for some time, appearing as a friend of Seth Rogan in the 2009 comedy Funny People, and enjoying small foles in A Very Harold & Kumar Christmas and The Next Three Days.
The Man With The Iron Fists sees him looking to capitalise on his momentum, with performances in upcoming blockbusters GI Joe: Retaliation and Tarantiono's Django Unchained.
Rza appears to be aiming to follow in the footsteps of fellow Wu Tang member Method Man, who has enjoyed a productive acting career, including a standout turn as Cheese in critically adored HBO crime show The Wire.
The Man With the Iron Fists does not have a confirmed release date.