The retirement of India's Sachin Tendulkar from cricket has left his biggest fan with a rather large hole to fill in his life.
Sudir Kumar Chaudhary has spent the past 12 years living in conditions akin to beggary in order to pursue his passion of watching Tendulkar play cricket.
In a country which idolises Tendulkar for his batting across 24 years at Test level, Chaudhary stands out for being the most obsessed with the 'little master.'
The 32 year-old, who is not in a relationship, has trekked across India, Pakistan and Bangladesh to see India's most famous sportsman - and possibly person - in action.
Chaudhary is always recognisable in the stands of cricket grounds for his having whole upper body painted in the colours of the Indian flag. With the word 'India' painted on his forehead and '10 Tendulkar' on his chest, it is clear who he was cheering for.
But that is now over, following Tendulkar's retirement from the game after his 200th Test match. Yet the fact that Chaudhary's idol is no longer at the wicket shall not stop his unending pilgrimage, he vowed.
"I will always honour him," said Chaudhary. "Every match, "Miss U Tendulkar 10" on my body. No-one can replace him."
Adding 'Miss U' to the body decoration will be a fitting tribute which enables Chaudhary to keep on going, it seems. His adventures have even been funded by Tendulkar's team-mates, such is the fame he has acquired.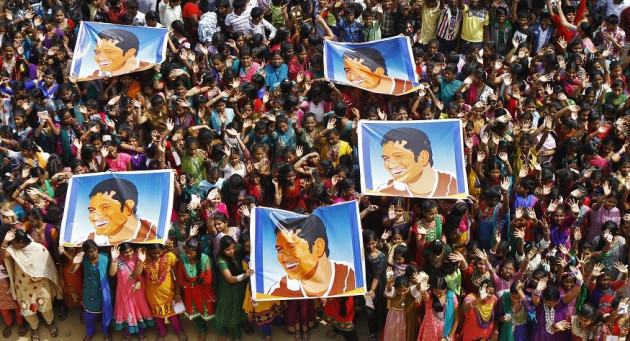 Chaudhary told The Telegraph: "The players offer help. [Captain M.S.] Dhoni said 'give me your account number, this money will help you' but I never accept. Just a ticket is all I ask."
It means he ekes out a living by working casual labouring jobs for a pittance to buy bus and train tickets and also relies on the generosity of others to help him out.
There is no room for a girlfriend in this obsession, either. He said: "My devotion to Sachin is everything; getting married would be a burden and unfair to her."
Chaudhary's fame hit new heights when his never-ending display of devotion was noticed by Tendalkur himself, who invited him in to the changing room after the World Cup final two years ago.
Yet not everybody has always welcomed Chaudhary when he arrives in cities. Some accuse him of being a desperate attention-seeker, while the authorities have been less than understanding of his motives.
"There were difficulties to start with," he said. "In Hyderabad, when he scored a hundred against Australia, I ran over the ground to touch his feet. The police came and took me away and Sachin requested that they didn't hurt me but they weren't familiar with the Hindi language, so beat me up so badly I wasn't fit to cycle to the next game."
Tendalkur may be gone, but Chaudhary is determined to remain 'not out.'