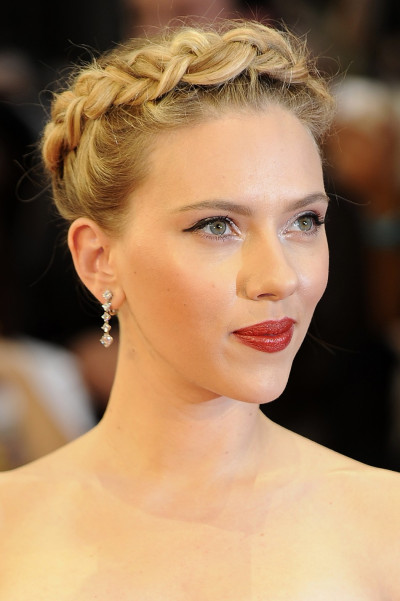 At the European premiere of the Avengers in London, actress Scarlett Johansson sizzled in a strapless frock with flower detailing.
She completed her look for the red carpet event with a unique plait hair-do where she scraped her blonde locks up in a large plait above her forehead.
Scarlett's outfit reflected her glamorous side and was quite different from the androgynous ensemble of trousers and a tailored jacket she last wore during the promotion of the movie. The cute flowery dress was also a far cry from the slinky black catsuit she wore for the movie.
Scarlett portrays the role of Natasha Romanoff, the Black Widow in the Avengers Assemble. The star earlier told that Sun that she had to work hard to fit into her catsuit and was primarily on a high vegan diet.
"Everybody on the film has their own uncomfortable costume situation. It's like 800° in mine. And it's a one-piece and I have nothing underneath it. Everybody looks incredibly uncomfortable until the cameras are rolling. Then we all look badass. And when the Avengers assemble, it feels like being a little kid. 'Then, cut! And we're all like, 'Arrgh, God, get this thing off me.' As soon as everything is cut, everything comes off," the Sun quoted Scarlett saying.
The 27-year-old was accompanied by other Avengers co-stars including Robert Downey Jr, Jeremy Renner, Tom Hiddleston, Mark Ruffalo and Colbie Smulders.
Downey was in a black suit and white shirt which he paired with dark glasses. A major highlight of the event was male star Hemsworth who arrived with his heavily pregnant wife Elsa Pataky. Dressed in a floorlength emerald green dress, Pataky looked stunning as she showed off her large bump.
Fans of the popular sci-fi movie have been patiently counting days for the film's opening day.
Downey Jr reprises his role as the Iron Man, Evans as Captain America, Hemsworth as Thor, Hiddleston as Loki and Samuel L Jackson as Nick Fury.
Written and directed by Joss Whedon, the action adventure film follows the comic book team as they unite to fight Loki and neutralise his threat of war from another world.
The movie is releasing in the UK theatres on 26 April, 2012 and in the US on 4 May, 2012.
Start the slideshow and catch a glimpse of Johansson at the European Avengers premiere red carpet: