Seattle Seahawks cornerback Richard Sherman has been the victim of racist abuse online after his passionate post-NFC Championship game interview went viral.
Following the Seahawk's 23-17 win against the San Francisco 49ers, Sherman gave a brief but memorable post match tirade against 49ers wide receiver Michael Crabtree.
During the game, Sherman deflected a pass which was intended for Crabtree in the end zone. The move eventually led to a Seattle interception which clinched victory for the Seahawks.
After the game ended, Fox News presenter Erin Andrews asked Sherman about the final period of the game, to which he screamed back "Well, I'm the best corner in the game!"
He continued: "When you try me with a sorry receiver like Crabtree that's the result you're gonna get. Don't you ever talk about me."
When Andrews asked who had been talking about him, he replied: "Crabtree. Don't you open your mouth about the best Or I'm gonna shut it for you real quick!"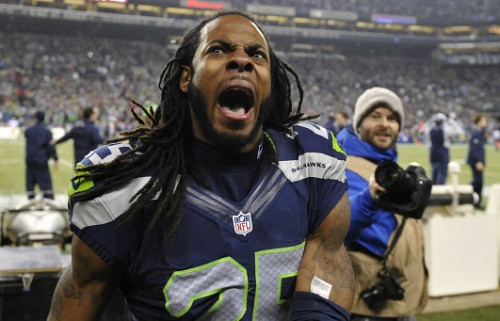 The heated rant soon spread online, with people declaring it "best post-game interview of all time" and becoming one of the most talked about moments of the entire game on twitter.
However, many people also condemned Sherman's actions, claiming he was showing a huge lack of sportsmanship and respect for his opponent.
However, as reported by Deadspin, many also took to Twitter to hurl racist abuse at the cornerback in the wake of his irate interview.
One user wrote: "Lol don't mess with Richard Sherman, he will go bananas. Guys a fricken jungle monkey".
A second added: "Richard Sherman deserves to get shot in the fucking head. Disrespectful n****r".
A third, rather confusingly, also wrote: "Richard Sherman. What a role model for today's Taliban youth."
The players themselves also continued their war of words via Twitter. Crabtee, who pushed Sherman in the face after he taunted him following the interception, wrote:
Sherman, using more poetic prose than his post-game interview, responded with: "A lion doesn't concern himself with the opinions of a sheep."
He later tweeted:
Seattle Seahawks will play the Denver Broncos in Super Bowls XLVII following their victory the over San Francisco 49ers