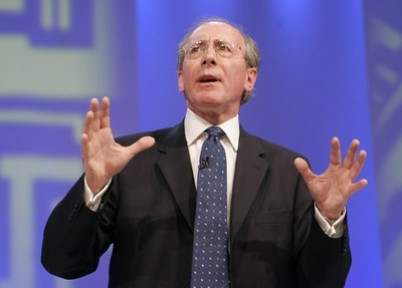 It wasn't just Britain's top spooks who emerged from the shadows into the full glare of the media spotlight this week.
The chairman of the Security and Intelligence committee, Sir Malcolm Rifkind, KCMG, QC, MP also found himself thrust back into the sort of celebrity he has not enjoyed for many years.
"Rambo" Rifkind as he was once mischievously, and rather unbelievably dubbed by a Scottish tabloid newspaper when he was Secretary of State for Scotland in the 1980s, has previous when it comes to this sort of public scrutiny.
He was one of the longest-serving Tory ministers under Margaret Thatcher and then John Major, remaining on the government frontbench throughout the 18-year period, one of the great survivors of the time.
But those days have largely gone. He did spring to prominence again recently when his previous opposition to UK military involvement in conflicts such as Bosnia, when he was defence secretary, gave way to a strongly-held belief Britain should have taken military action against the Assad regime in Syria.
He was particularly fierce in his condemnation of Labour over the Commons vote on the issue, claiming Ed Miliband's opposition to intervention risked sending a message of weakness out to the world and could even encourage Argentina to launch a new attack on the Falkland Islands.
But for this particular outing of the Intelligence and Security Committee, Rifkind was the man making history by cross-examining the heads of MI5, MI6 and GCHQ in their first-ever group outing in public.
There was a time when Rifkind was one of the very select group of people who would have recognised the individuals occupying these jobs, and known them by their real names - not "C" as the MI6 (Secret Intelligence Service) head is known, for example.
That was in the days when Rifkind was regularly in the headlines as Defence Secretary and Foreign Secretary under Major. It was also the time he earned that tongue-in-cheek "Rambo" headline when he delivered a particularly fiery and successful performance in the Commons. No one, needless to say, can quite remember what it was about although everyone remembers the nickname because it was so unlikely.
Because Rifkind, 67, just doesn't look, sound or usually act like Rambo, or any other pumped-up action hero type. Although he has his moments, as journalists who once accompanied him to the ancient "Rose City" of Petra in Jordan discovered when Rifkind virtually sprinted up the 400-plus stone steps to the Monastery, leaving hacks and officials at serious risk of heart failure as they failed to keep up.
But, in reality, Rifkind looks and behaves like what he is - a barrister, senior former minister and fully paid-up member of the establishment. He is tall, thoughtful, not normally prone to rhetorical outbursts and has the sort of Edinburgh accent that can make him sound more posh than an English public schoolboy.
He was first given a cabinet post, as Scottish secretary, by Thatcher in 1986. He was later moved to the Transport brief by Major in 1990 then, after the 1992 general election, became defence secretary. Although he had no military background, despite his bearing suggesting the opposite, he was seen as a powerful supporter of strong armed forces and a robust defence strategy.
His final post was as foreign secretary under Major with the task of overseeing the negotiations for the handover of Hong Kong back to the Chinese.
His political career earned him an enviable reputation as a loyal, trustworthy, likeable and, probably above all else, "safe" minister. That explains why he survived for so long.
He lost his Scottish seat of Pentlands in the 1997 election rout and failed to win it back in 2001. But he served as President of the Scottish Conservatives during that time, a post from where he bucked official party policy and fiercely opposed Tony Blair's invasion of Iraq in 2003.
He finally returned to the Commons for the English seat of Kensington and Chelsea in 2005 and went on to stand in the leadership election. Despite widespread recognition of his experience and integrity, he failed to win through the early rounds and went on to support Ken Clarke for the job. His defeat was largely put down to that image of him as an establishment, old-style Tory when the party was looking to re-invent itself in the Blair era.
He fully supported David Cameron when he won the job and, in 2010, was give his current post as Chairman of the Intelligence and Security Committee.
Once again, it was his image as a trusted, reliable establishment figure and the fact his previous jobs meant he had inside knowledge of the security services, that made him ideal for the job. But it also meant he faced some inevitable criticism when he led the historic questioning of the three chief spooks.
And his dry, unchallenging opening question to the security chiefs brought widespread critical comment, along the lines of: here's the establishment failing to properly quiz the establishment. They are, it was suggested, all members of the same club - perhaps literally.
Rifkind opened proceedings simply asking the spooks if they had anything to say and then calling other committee members to work through the list of topics they wanted to discuss.
But, as has been the case previously, those who rushed to judge him were a touch premature. Later in the proceedings his tone hardened and, for example, he suggested to the head of GCHQ that many people suspected the real cyber threat was coming from his people listening in to all their phone calls and reading their emails.
But this was about as hard as the questioning got, leaving the lingering suspicion that, while Rifkind clearly supports the notion that some open, public scrutiny of the spy chiefs is a good idea, he is perhaps just a bit too familiar with them already and, as a result, was reluctant to give them the sort of grilling many watching the coverage on TV were hoping for.
And that will probably do little to boost his "Rambo" image or dispel the notion he is a quintessentially establishment figure.