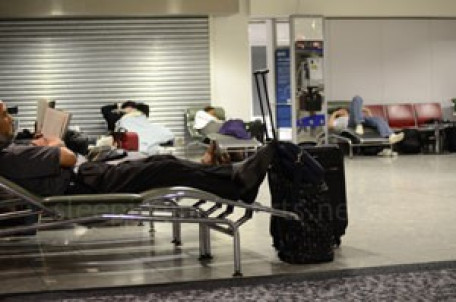 Sheriff Tiraspol, Spurs' opponents in yesterday's Europa League match, spent last night at Heathrow airport - because they had no money for a hotel.
Sheriff, who lost 2-1 at White Hart Lane, are a modest Moldovan club created just 16 years ago. The gulf between them and their opponents last night is vast.
Sheriff have to play every home league game at 2 o'clock to avoid having to turn on the lights of the stadium and save some money, and generally no more than 100 supporters go to their stadium to watch the games.
In contrast Tottenham play in a huge stadium and regularly attract more than 30,000 supporters. As Sheriff's manager Juan Ferrando said, the club's annual budget is roughly equivalent to the weekly wage of just one of Spurs' star players.
Little wonder that, as Ferrando told reporters last night, Sheriff's players were excited to have lost by only one goal. With two points already secured in the qualification round, they still have some chance to reach the knock-out stage.
Knock-out qualification would be another feather in the chap for Ferrando, who used to be the personal trainer of players like Cesc Fabregas and Van Persie during his time at Arsenal.
The Spanish coach, who also worked for Brighton in the past, has this season become the youngest coach in history to compete in a European tournament, at just 33 years old.
Yet, while his record looks quite impressive, Ferrando is a coach so little known that his official twitter account only has 564 followers.
When one compares this with Andre Villas-Boas, one of the most famous managers in the world, one sees once again the huge gulf between last night's teams - and the scale of Sheriff's achievement.