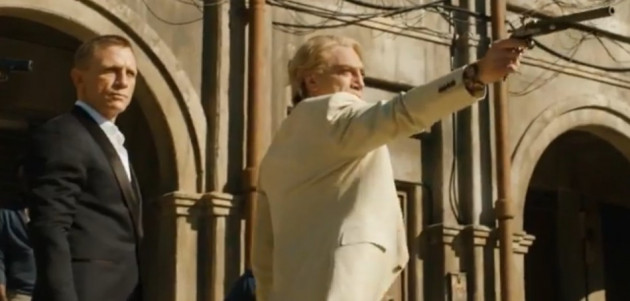 Daniel Craig is back in action as James Bond in the first full-length trailer for Sam Mendes's Skyfall.
The clip represents a notable change of pace from the teaser trailer, which was a sombre affair. The new trailer showcases some spectacular action as well as new villain Silva, played by Javier Bardem.
After the disappointment of Quantum of Solace, all eyes are turned towards Mendes' effort as it looks to maintain the momentum of Craig's rebooted James Bond.
It appears the American Beauty and Road to Perdition director is looking to recall the classic, violent, Sean Connery-era James Bond, featuring super villains and gadgets while avoiding the camp, childish humour that the series devolved into.
The trailer also appears to show more plot details, revealing that Bond's mentor M (Judy Dench) finds a ghost from her past has come back to haunt her, with the Secret Service paying the price. Ben Whishaw's new-look Q is also revealed as a young computer hacker with a wiry haircut, able to banter gamely with Bond.
However the flamboyant centrepiece of the trailer is the appearance of Silva, who gets a lengthy introduction before being revealed as a bleach-haired mixture of dashing bombast and thinly-veiled menace. Anyone who has seen Bardem in No Country For Old Men will know how terrifying a presence he can be.
As far as the action goes, it's here in spades, with Bond, accompanied by female agent Naomie Harris and new Bond girl Severine (Berenice Marlohe), fighting on the roof of moving trains, atop neon skyscrapers and on ice-covered lakes.
That's not to say the film is taking itself too seriously, as Bond can be seen leaping from the top of a digger onto a partially destroyed train, only to pause and fix his cuff-links.
Skyfall will be released on October 26. See the trailer below: