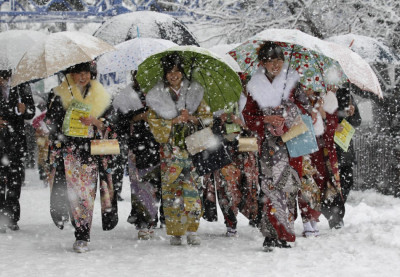 Heavy snow has blanketed huge swathes of northern Europe, Japan and even California as winter returns with a vengeance.
About 10cm (3in) of snow disrupted Japan's famed bullet train and brought traffic in Tokyo to a standstill.
"It's the worst snow in my 51 years of experience," Katsutoshi Nokimura, a 74-year-old taxi driver, said. "Some people abandoned their cars after getting stuck. It's chaos."
Japan's central regions of Kanto and Koshina were bracing for an expected 50cm of snow. A large number of domestic flights have been cancelled.
California had the unusual experience of snowstorms and freezing temperatures, which led to a 60km (40 mile) stretch of Interstate 5 highway being closed.
Snow also fell across Russia, the Baltic States, Belarus, Ukraine, Sweden, Poland, Austria, the Czech Republic, southern Germany and Switzerland.
Southern Europe and parts of the Middle East were hit recently with heavy snowfall covering parts of Greece including Athens. The Middle East was hit by its worst winter storm in a decade and snow settled on cities in Turkey, Lebanon, Jordan, Syria, Israel and Palestine.