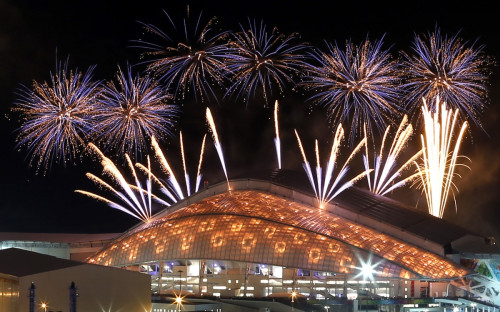 The opening ceremony of the 22nd (XXII) Olympic Winter Games is about to take place - and it promises to be every bit as spectacular as the grand unveiling of London 2012 eighteen months ago.
Sochi may not have David Beckham on a speedboat, or indeed a queen in a parachute, but the organisers have strained every creative sinew to give it an equally captivating visual stamp.
According to the BBC, Sochi 2014 is the costliest Olympic Games in history with a cost of £30bn - and a large chunk of this sum has been lavished on the first-night show.
During the ceremony, Russia's veteran bobsleigh driver Alexander Zubkov will carry the Russian flag, according to the Russian Olympic Committee.
"I am very satisfied and happy that I have been entrusted with such a proud mission. It is wonderful to know that the country is behind me," Zubkov, a top Sochi Olympic Games medal contender, said.
Over 3,000 young talents from schools, as well as professional artistic groups, will put a show of dance, ballet, acrobatic and circus performances.
A pre-telecast show that begins at 7pm, which can be viewed only by audience at the stadium, will feature performances by Russian popular singers.
Industrial tableau
Reports suggest there will also be a historical tableau depicting Russia's industrialisation, similar to the visual timeline which anchored the London 2012 ceremony.
However the Sochi version has received far more criticism, due to the bitterness and recrimination which continues to dominate discussions about the pro-industry policies of Joseph Stalin during the 1930s.
Some estimates suggest Stalin's aggressive policies killed 20 million people, and many are loathe to celebrate this period of Russian history in a bombastic montage.
Innovation
For the first time in Winter Games' history, athletes at Sochi will introduce themselves stepping up to the stage along a 48-metre ramp in the middle of the stadium.
Sochi has also made history by sending the Olympic touch into outer space on its peripatetic journey to the opening ceremony. However the journey is now complete, and all that now remains is for it to be lit inside the stadium.
The name of the final torchbearer, who will light the cauldron to start the games, remains a closely guarded secret.