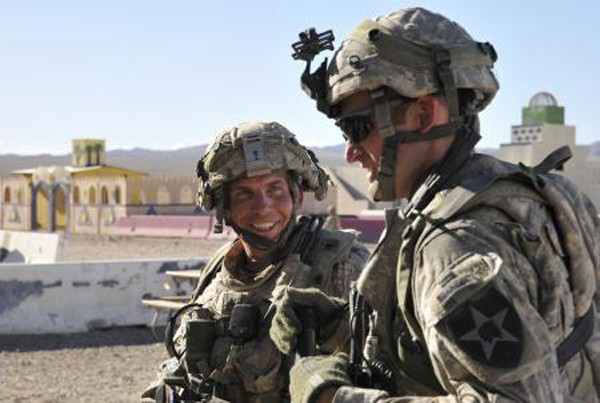 The American soldier accused of killing 16 Afghan civilians was $1.5m (£940,000) in debt, it has emerged.
Staff Sgt Robert Bales, the US soldier accused of shooting dead 16 villagers including women and four girls while they slept in their homes, defrauded an elderly couple to clear his debts shortly before he joined the army, ABC News reported.
Bales is being held in solitary confinement in Fort Leavenworth, Kansas and charges over the incident are expected to be announced by US military authorities soon.
The killing has angered Afghans and President Hamid Karzai has called for an investigation to determine whether Bales had acted alone.
The fraud took place when Bales was working as a stockbroker in Ohio in 2000.
At the time, Gay Liebschner, a 74-year-old retired engineer from Columbus, Ohio, had asked Bales to sell his stocks to pay for medical bills but he never received the money.
Liebschner said that as a result of Bales's actions he lost $1.3 million in savings.
"He robbed me of my life savings," Liebschner told ABC News. "We didn't know where he was. We heard the Bahamas and all kinds of places."
After failed attempts to reach a settlement Liebschner and his wife went to arbitration but Bales did not attend the hearing. Eighteen months later he enlisted in the army.
According to records from the Financial Industry Regulatory Authority in 2003 an arbitration panel found that Bales had "engaged in fraud, breach of fiduciary duty, churning, unauthorised trading and unsuitable investments".
The arbitrator ordered Bales to pay $637,000 in compensation, plus interest and $216,500 in legal fees but the elderly couple never received any money.
Bales's past also includes other encounters with the law and he was ordered to attend an anger management course after being arrested on suspicion of drink-driving and being involved in a hit-and-run accident, the Times reported.
John Henry Browne, a lawyer for Bales, described the highly decorated soldier as "mild-mannered."
"He's never said anything antagonistic about Muslims. He's in general very mild-mannered," he said.
He had been injured twice in Iraq and part of his foot had to be removed as a result.
Bales's family issued a statement following his arrest for the Afghanistan incident saying they were "stunned" but stood behind him.
He was, they said, "the man they know as a devoted husband, father and dedicated member of the armed services".
His wife offered her condolences to the victims and said she was struggling to come to terms with what happened.