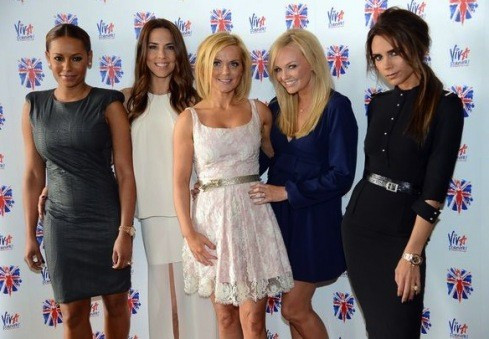 The Spice Girls - the hugely popular 90s all-girl pop group - have all but confirmed a reunion. The five-member band is 95 percent certain to reunite, for the first time since 2008, to perform at the closing ceremony for the 2012 Olympic Games.
Band members Victoria Beckham (Posh Spice), Geri Halliwell (Ginger Spice), Emma Bunton (Baby Spice), Melanie Chisholm (Sporty Spice) and Melanie Brown (Scary Spice) could join George Michael, The Who, Take That and Jessie J for the event on 12 August. The group has reportedly also agreed to sing hit 1996 track Wannabe; they will sing one other, as yet unknown, track. Meanwhile, Halliwell is expected to wear the Union Flag dress she donned at the 1997 Brit Awards.
During an interview with RTE radio's John Murray for the John Murray Show, Victoria Beckham - now a fashion designer based out of Los Angeles - hinted she would welcome a reunion.
"I'm so respectful of my past and I love the other girls. We have some fantastic fans. Who knows, maybe some day we'll do something else with the Spice Girls. I would love nothing more," the 38 year old was quoted as saying, adding, "I don't know about a comeback tour but I loved being back with the girls. There was a lot of fun, we did so much together and we'll see. If they're up for something then I certainly am. We are so proud to be English and we are very excited about the Olympics."
It seems discussions to bring all five singers together have been going on for some time, a source confirmed to the Mirror.
"The girls were approached for the Games two years ago. It's always been on the cards," the insider was quoted as saying to the tabloid, "But Victoria's hectic work schedule, and the fact she and Mel B live in the US have always been problematic until now. Victoria is in London until the end of the Games and David's exclusion from the football team means she has time to reunite with the Spice Girls. Talks are back in full swing and the balance of power rests with Mel C. Everyone is hopeful she will agree to perform."