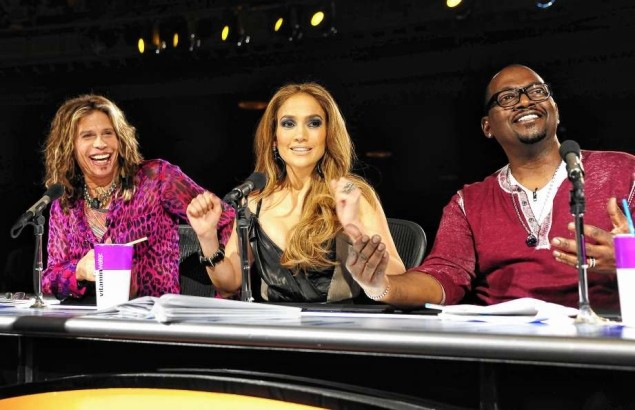 Steven Tyler is stepping down from the American Idol judging panel to concentrate on his music.
The 64-year-old Aerosmith frontman, who has been a judge on the talent show since 2010, will be leaving behind his fellow celebrity judges Jennifer Lopez and Randy Jackson.
In a subtle reference to thriller Fatal Attraction Tyler said: "I've decided it's time for me to let go of my mistress American Idol before she boils my rabbit."
He said that the Fox show had taken over his personal life.
"I strayed from my first love, Aerosmith, and I'm back - but instead of begging on my hands and knees, I've got two fists in the air and I'm kicking the door open with my band.
"The next few years are going to be dedicated to kicking some serious ass - the ultimate in auditory takeover."
He told fans the group would release new music in November.
"We are unleashing our new album, Music from Another Dimension. Idol was over-the-top fun and I loved every minute of it - now it's time to bring rock back," he said.
Lopez has dropped hints that she may not return for the next season of the show.
"I love Steven and we became close during that time," she said. "We were a great support for each other, on an adventure that neither one of us knew what it was going to be. So it's hard to hear that he won't be doing it.
"All hope is never lost - not all hope - but at the same time, there are too many things that I need to think about.'"
Fox's Mark Darnell said: "We are very sad that Steven has chosen to focus more on his music but we always knew when we hired a rock 'n' roll legend, he would go back to music."