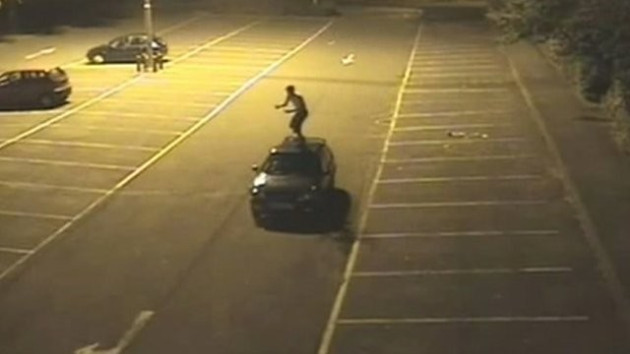 CCTV footage of a man who risked his life "surfing" the roof of a car driven by a 17-year-old girl has been presented in a dangerous driving trial.
The film shows Christopher Wannell, 21, standing on the roof of a Citroen Saxo, as it is driven around the Basingstoke Leisure centre car park in Hampshire allegedly by a 17-year-old girl with no driving licence.
When the car stopped, Wannell continued in his "foolish" stunt, the court heard, jumping on a Ford Fiesta driven by another friend, 21-year-old Thomas King.
The three were arrested after being spotted by a security guard.
The footage was shown at Winchester crown court, where Wannell and King appeared to answer charges of dangerous driving.
They admitted careless driving and were each given six points on their licences and ordered to pay £300 in fines and costs.
The 17-year-old girl had been disqualified for driving for a year at an earlier hearing, after admitting dangerous driving, driving without a licence and driving without insurance.
Malcolm Gibney, defending Wannell, described the bravado as "foolish".
Berenice Mulvanny, defending King, a geology student at university, said: "He did something stupid that he should not have done".
Hampshire police warned that car surfing was potentially lethal.
"Car surfing is simply dangerous and a major concern for the community in Basingstoke," Sgt Andy Tester, from Hampshire Constabulary said.
"Christopher Wannell was standing up on a moving car being driven by an unlicensed driver.
"Any sharp braking or impact could have led to him falling off and suffering serious injuries or death.
"Members of the public walking to their vehicle would have seen how reckless and dangerous it was and feared for their own safety or damage to their own vehicles," he said.