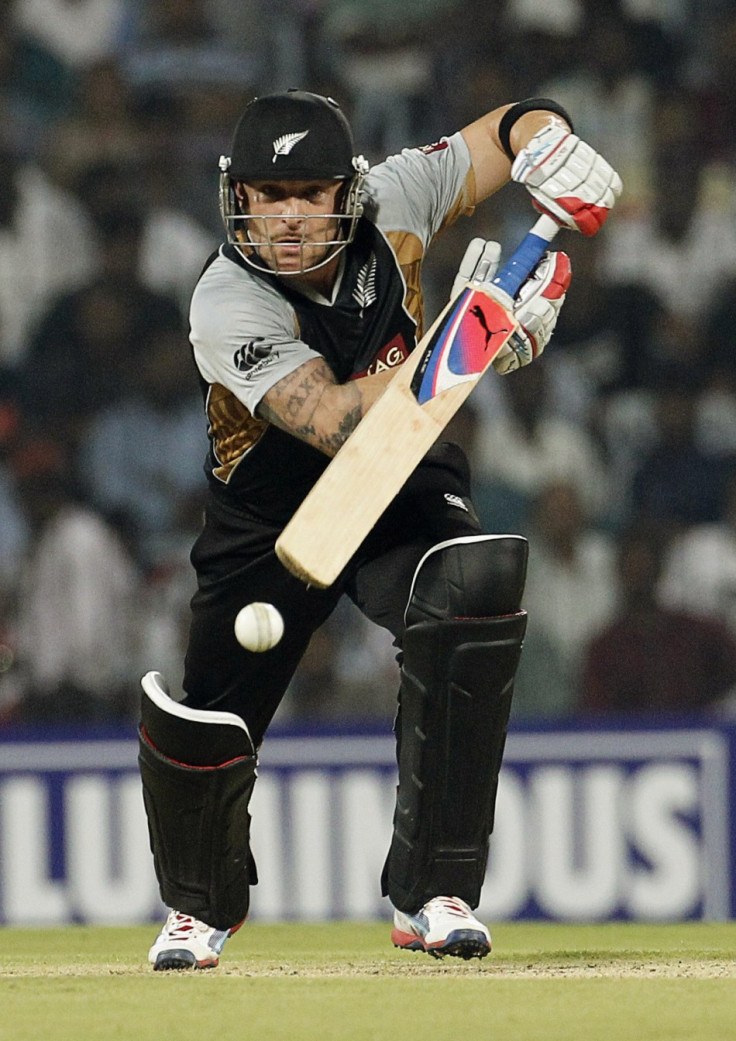 The Asian country, who were probably banking on the tournament being as close to home as possible and in spinner-friendly conditions, were given a rude shock once the powerful Brendon McCullum took centre-stage.
The 30 year old right hander was merciless to the point of being cruel, as he smacked the Bangladeshi bowlers for 11 4s and five 6s in an innings of 123; nine of those boundaries came in the final four overs, which cost the bowling side 63 runs!
Scores
New Zealand 191/3 (B McCullum 123; Abdur Razzak 2/28) beat Bangladesh 132/8 (Nasir Hossain 50; K Mills 3/33, T Southee 3/16) by 59 runs.
Player of the Match
B McCullum (NZL)
Review
Suffice it to say any review of the New Zealand innings is rendered superfluous once we point to the scorecard. For nearly three-quarter of the Kiwi innings, Bangladesh could be forgiven for thinking they had some measure of control over the batting team. After all, Abdur Razzak struck early to remove opener Martin Guptill (11) and, for at least the first seven overs, the New Zealanders were quiet.
But with McCullum... you have to get him out. You simply cannot leave him at the crease and hope to contain the score because given time, particularly in this format of the game, the right hander will make you pay. And he did just that.
It all began with a fairly straightforward six over cover, off Shakib Al Hasan's first over. The ball was a touch wide outside off and turning away a bit more... an open initiation and one McCullum took, driving with power. After the eighth over New Zealand were 56/1, with McCullum on 27 and James Franklin on 18.
The carnage began in the next over, with Franklin and McCullum hitting Mahmudullah for 13 off his first over and McCullum continued to pick on Al Hasan, launching the slow left arm bowler for another six, this time through the mid-wicket boundary. Elias Sunny's second over was similarly treated, with Franklin getting in on the act as well, launching him straight back over his head for a six.
By this time New Zealand had gone from 56 in eight overs to 97/1 after 12 and worse, for Bangladesh, was to follow. Captain Mushfiqur Rahim tried to change things around, bringing the medium pace of Ziaur Rahman on but McCullum was having none of that. Two particularly poor balls... one far too short and the other straight at the batsman's pads were both dispatched to the boundary.
In desperation Rahim turned to his ace... Razzak, whose returns were a hugely impressive 1/8 off two overs, although he would have loved to save his remaining spell for the final overs. Razzak responded by shackling McCullum and Franklin. Indeed, neither seemed to get anywhere near the 30 year old's deliveries, misreading and mistiming almost every ball. The change worked though, even if Razzak didn't get the wicket. Mashrafe Mortaza came back into the attack and immediately struck, removing Franklin (35) off a length ball that was hit straight to deep mid-wicket. Unfortunately for Bangladesh, that was the signal for McCullum to let loose and he did just that!
New Zealand were 128/2 after 16 overs and finished 191/3 off 20, with McCullum falling off the very last ball of the innings, after hitting the previously unhittable Razzak for two giant sixes in the 20th over.
Bangladesh would have to bat out of their skins to come anywhere close to the target and they were never really going to do that. But just to make absolutely sure New Zealand had already won the match, opener Tamim Iqbal (0) gifted Kyle Mills his wicket in the first over; a ball just short of length and outside off and edged to cover. Shakib Al Hasan and Mohammad Ashraful closed the over like they meant business though, with each batsman hitting Mills for a four. Ashraful's in particular was a sweet shot... timed his shot perfectly to pick a ball outside off and drop it over mid-wicket.
However, Al Hasan (11) fell to Mills' second over, trying to force the pace and although Ashraful toiled manfully, playing some rather delightful shots off Jacob Oram (the boundary pulled to deep square leg in the fourth over is a good example), the fact he was not being helped by his partner only served to put more pressure on the batting side. The captain, Mushfiqur Rahim (4), was next to go, as Mills picked up his third wicket of the match. Rahim tried do as Ashraful did in the first over, lifting a ball from outside off to the mid-wicket boundary but mistimed the shot.
And if there was ever any doubt about the result, Tim Southee had Ashraful (21) trapped in front in the seventh over, leaving Bangladesh down at 37/4 and pretty much out of the match. Nasir Hossan and Mahmudullah were then at the crease and the pair struggled to get the big shots away, the latter's six over long-on off Daniel Vettori the only highlight of the period.
Hossain then briefly gladdened Bangladeshi hearts, with a six and a four off Oram, both excellent shots, and followed that up with two more fours off Vettori's final over. The youngster showed absolutely no fear in what was, under the circumstances, a super heroic innings. But the wicket in between, of Mahmudullah (15) summed up the Asian country's batting effort. Hossain (50), Ziaur Rahman (14 not out) and Mortaza (5) stuck around a while longer and did find the boundaries regularly but it was way too little and too late.