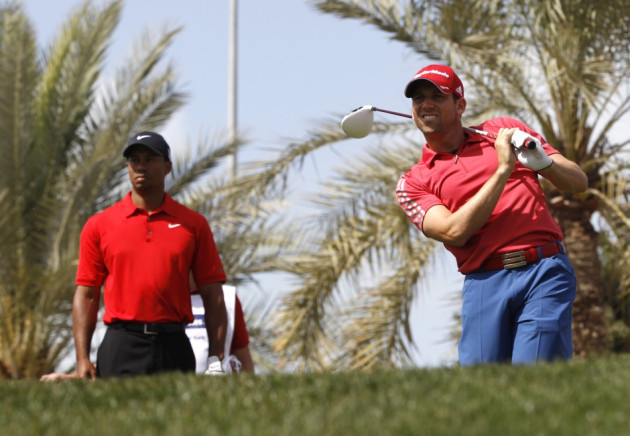 Tiger Woods and Sergio Garcia shook hands on the US Open practice range at Merion; their first meeting since last month's race row between the pair.
The controversy between the two has cast a shadow over the golfing world in the build-up to the Open, stemming from the Spaniard's joke where he stated he would invite Woods over to his house for "fried chicken" during the competition.
Given the racial undertones such comments have, Garcia quickly apologised when he realised his error of judgement, insisting he had not intended to be racist after the World No 1 labelled the comments "hurtful" and "clearly inappropriate".
Ahead of Thursday's tee off, the image of Woods accepting Garcia's offer of a handshake on the practise range was captured on Monday, suggesting the incident is close to being fully resolved.
Woods & Garcia greeted each other and shook hands on the driving range today. @golfchannel cameras caught the moment. twitter.com/GolfChannelPR/…

— Golf Channel PR (@GolfChannelPR) June 10, 2013
When quizzed on the incident, Woods told reporters, "I'm not going there", although further comment is expected when both golfers hold their press conferences.
The feud between the two has been on-going since early May, when Garcia accused Woods of treating him with a lack of respect during the Players Championship. The unsavoury relationship took a turn for the worse following Garcia's racially insensitive comments at an awards dinner at Wentworth.
The suggestion of reconciliation between the pair will be a welcomed one, but there may still be a strong chance of Garcia being on the receiving end of a hostile reception, according to Colin Montgomerie.
When asked if the Spaniard could be booed over the next weeks, Montgomerie told Sky Sports, "Yes, he could do, which is very sad for out game. Remember we are only a few hours from New York and it's a lively crowd and I think he could well be booed.
"You would feel for him, but the trouble is if you feel for him that's you condoning it. So you can't feel sorry for him because you're condoning it. So it's very difficult - it's a very difficult situation to be in."