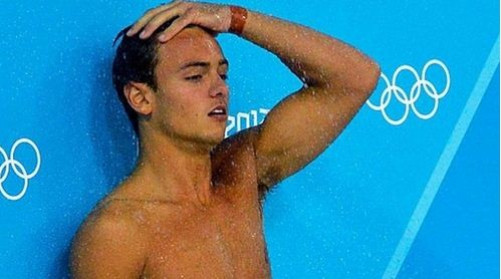 Olympic diver Tom Daley has said that it shouldn't really matter who he is dating. Daley had recently taken to Twitter after reports said he was in a relationship with Oscar-winning screenwriter Dustin Lance Black, who is 20 years his senior.
"It was really love at first sight. I've never felt anything like it before. I hadn't even talked to him and I was like, wow. I didn't know what to do," Daley confessed his love for Black.
Two days after Daley revealed he was dating a man, his partner was named. Black is a prominent LGBT rights activist and reportedly played a key role in persuading Daley to come out.
A founding member of the American Foundation for Equal Rights, Black won an Oscar in 2008 for Milk, a gay civil rights movie which starred Sean Penn.
Reports suggest he met Daley at the Kids Choice Awards in Los Angeles in March, and since then sources close to the pair claim they have been inseperable.
Daley confessed he was in a relationship with a man in a YouTube video, telling the world: "In spring this year, my life changed massively when I met someone and they made me feel so happy, so safe and everything just feels great.
"And that someone is a guy. It did take me by surprise a little bit. It was always in the back of my head that something like that could happen, but it wasn't until spring this year that something just clicked. It felt right and I thought, 'OK,' and my whole world changed there and then. Of course, I still fancy girls, but right now I'm dating a guy and I couldn't be happier."