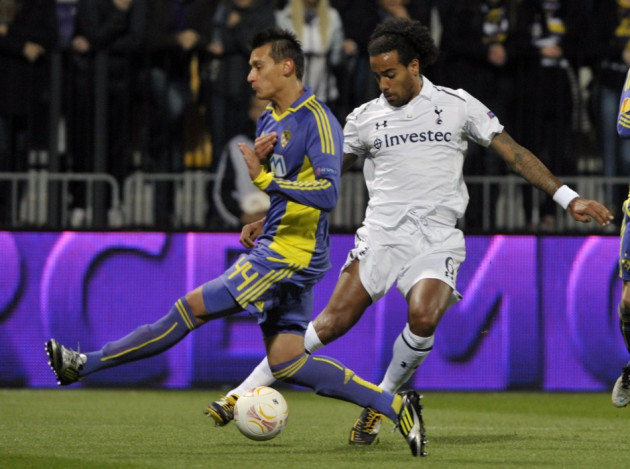 Tottenham midfielder Tom Huddlestone is once again enjoying life at White Hart Lane after forcing his way back into the first team just months after his proposed transfer to Stoke fell through.
The 25-year-old was able to make just four appearances last season as injuries kept him on the sidelines for the best part of 10 months. He returned to full training during pre-season and was set to join Stoke on a loan deal in order to prove his fitness.
Huddlestone began training with Stoke but the deal could not be completed and the midfielder returned to Tottenham. He has since forced his way into the first team plans of manager Andre Villas-Boas and is hoping that he can remain a permanent fixture in the Spurs midfield.
"The clubs had something in place but the agreement changed at the last minute which made the deal fall through but in hindsight it worked out well as I have come back to Tottenham and now I am playing," said Huddlestone, who was speaking at a press conference before the Europa League tie against Maribor.
Huddlestone was then quizzed on whether he believed Tottenham would once again look to send him out on-loan.
"You never know, but I've been in the team the last few weeks and it's up to me to cement my place and give the manager no option to leave me out.," he added.
The former Derby County midfielder has featured in seven league games this season and has now made three starts after summer signing Moussa Dembele was forced out due to injury.
With Scott Parker also sidelined, there has been an opportunity for Huddlestone to impress and he is hoping that he can remain in the starting XI once Villas-Boas has a fully fit squad to select from.
"It's been very enjoyable," said Huddlestone after life under Villas-Boas. "The beginning was tough as I wasn't involved but unfortunately a couple lads have got injuries and hopefully I can cement my place back in the starting eleven."
The powerful midfielder had been a favourite under former manager Harry Redknapp but has been forced to adapt to life under the former Chelsea boss and is duly impressed with Villas-Boas.
"He's been very organised. We know what session we will do before we go out to train," added Huddlestone. "It's quite a rigid team shape under this manager; it's more his ideas and we try to stick to them."
Huddlestone also asked the fans to show some patience after the surprise loss to Wigan last weekend, where fans began to voice their concerns.
"The fans will have to be patient but I think that will come in time. It's always difficult when we've had positive results in previous seasons," stated Huddlestone.
"Teams make it difficult for you to break them down. I think if we start fast and teams have to attack us then that's when we will be at our best."