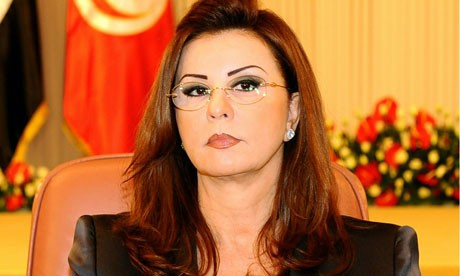 Leila Trabelsi, wife of ousted Tunisian president Zine El Abidine Ben Ali, described the Jasmine Revolution as an "orchestrated coup".
Mass protests against Ben Ali's regime began in December 2010 and, within weeks, he fled the country in January 2011.
The series of demonstrations that became known as the Jasmine Revolution were followed by similar popular uprisings in several countries across the Arab world, now referred to as the Arab Spring.
For Trabelsi, however, the demonstrations in Tunisia were nothing more than a coup.
"I wouldn't describe them as protests," Trabelsi, 55, told Le Parisien magazine in what was billed as her first interview since she left Tunisia.
"For me it was an orchestrated and planned coup d'état, but I don't know who led it," she said.
The former first lady and her husband fled Tunisia and sought refuge in Saudi Arabia after he stepped aside.
Ben Ali has since been sentenced to35 years imprisonment in absentia for his role in the deaths of hundreds of protesters, as the demonstrations were brutally repressed by the regime.
Trabelsi insisted in the interview that she did not believe the Tunisian revolution was a spontaneous movement born out of years of frustration with authoritarian rule.
She also defended her husband and denied he was behind the order to shoot up to 300 protesters during the uprising, saying: "Never. And to prove it, my husband's lawyer has asked that recordings of conversations between the president and the interior and defence ministers be made available to judicial authorities.
"Strangely, the transitional government refused this request," she added.
More controversial statements followed as Trabelsi said the couple never envisaged leaving the country for good.
Instead she claimed her husband called her and told her they should go to Saudi for a pilgrimage to "let things calm down" in Tunisia.
"My husband was already at the airport and [General] Ali Seriati did everything to convince him to leave, even though he didn't want to. We had no luggage, money or passports," she said.
Remaining defiant, she said the couple is willing to face trial in Tunisia.
"We are ready to face a trial in our country if it is fair and without excess or favour," she said. "For the present, there is nothing but hatred and vengeance."
Trabelsi said she was saddened the loss of life that took place in the uprising, adding that she is not politically inclined.
"I can only regret the loss of lives and I offer my sincere condolences to those families," she told Le Parisien.
"I don't involve myself in politics," she said. "My daily life is devoted to charity and social work. Apart from that I help my loved ones to live better, that's true," she added.
"But I never wanted to harm anyone. If I did, I apologise. "
The interview, which appears in the July edition of the magazine, was conducted on Skype. Ben Ali, 75, made a brief appearance in a white polo shirt during the interview.
In a message relayed by his wife, the former leader defended his work and the contributions he made to his country.
"I deplore the fact that people have forgotten that over 23 years their lives improved greatly [as] Tunisia became a modern country," he said in his statement.
"I hope that my compatriots will render me justice by remembering the journey we took together. I hope that in the twilight of my life I will retain my honour."
In her memoir released in Paris last month, entitled Ma Vérité (My Truth), Trabelsi admits that some of her relatives abused privileges they had received and alleges that the coup which toppled her husband from power was led by Seriati.