When Tyson Fury enters Madison Square Gardens on April 20 he will be the latest in a long line of heavyweights that have graced the boxing mecca. Ali, Frazier, Holmes, Holyfield and Lewis all fought at this iconic arena and now the undefeated Brit will have his chance to write his name into the history books.
Fury is a student of the game and has undoubtedly watched numerous films of these great fights in New York City. From Rocky Marciano delivering a brutal left-hook to destroy Joe Louis back in 1951, to Joe Frazier conquering the undefeated Muhammad Ali over 15 absorbing rounds to win the 'Fight of the Century'.
This venue has helped dozens of boxers secure legendary status and Fury is hoping that his own name will one day be mentioned in the same breath as these heavyweight warriors.
"It's the biggest stage in the world and I'm really looking forward to getting out there and showing the American's what I can do," declared Fury. "I have a good opponent and they really rate [Steve] Cunningham. I know it won't be a walk in the park, it will be a tough fight and I'm anticipating a hard fight."
Today there is none of the trash talk that has become synonymous with Fury. His razor sharp tongue has sometimes got him in trouble but it has also helped him build a fan base. However, when discussing the Cunningham fight, it is clear there is a laser sharp focus.
Perhaps the image of his long-term rival, David Price, stricken on the canvas before shakily getting to his feet after a cuffing right-hand from the 42-year-old Tony Thompson struck home with Fury. In heavyweight boxing anything can happen.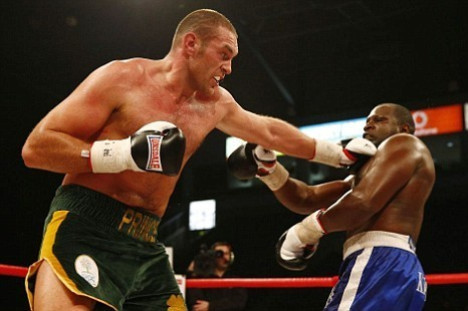 "It could be an awkward night. He's been a world champion, which is new for me, and has fought at world title level for a long time so it's going to be a difficult fight," admits Fury.
"Just look at Michael Spinks, he was relatively small and yet he beat lots of heavyweights like Gerry Cooney and Larry Holmes. Or even Holyfield. Unfortunately for Cunningham though he has to fight me."
At 6ft 3" and likely to enter the ring around the 220lb mark, Cunningham is expected to have the superior speed, both in terms of footwork and delivering shots. Yet, he is 12 years Fury's senior and the 24-year-old believes that the veteran American will come off second best in this department.
"I've got good handspeed and very good foot movement so I'm not anticipating that he will be quicker than me. I've really improved my conditioning and those tough fights I've come through have got me to where I am today. It's a learning process and you get better every time you lace on a pair of gloves - it's just a matter of time before I dominate the division."
This is an opinion shared by his trainer, Peter Fury, who must take much of the credit for helping the young heavyweight develop his skills and get in the best shape of his career.
"He is improving and he has come up another two notches again. Those 12 rounds against Kevin Johnson made him a different guy. He is a lot more confident and assured of himself, he gets in there now and it's like he owns the ring," explains the experienced trainer. "Everything I have been teaching him is now coming in to play, he doesn't tighten up and he doesn't try to take their heads off. He's fast becoming a world class heavyweight and the speed and agility is second to none."
Should Fury come through this test then there is a belief that he will be ready to challenge for world titles, and that means the Klitschkos. However, after making the admission that he feels he is ready, it seems there is one more fighter he wants to share a ring with before coming face to face with one of the Ukrainian brothers.
"I want to have some revenge on Tony Thompson for what he did to David Price. He's put a blemish on an undefeated record and he needs to be blown out."
This was certainly not the reaction many would expect from a fighter who has continually delivered verbal blows on his fellow British heavyweight. Amid accusations of dodging Price, Fury has continually mentioned the Liverpudlian as a possible opponent and made it clear that one day the two would settle their differences.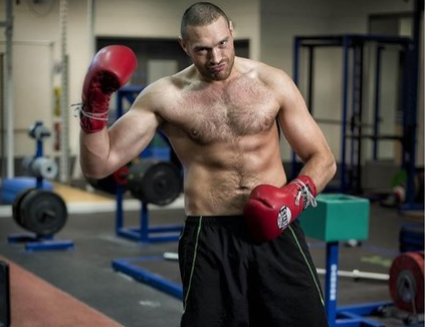 There was even a suggestion in Fury's mellow tone that he was disappointed Price had suffered a defeat, saying: "It was just one of those things. Even at 42 you never lose your power just look as when George Foreman knocked out Michael Moore. It's unlucky for him as he's failed at the last hurdle really, but I'm sure he'll come back."
Perhaps Fury had wanted to be the man to inflict a first defeat or he realised that the bout had suddenly become less of a drawer. What is clear, is that Fury now has his eyes firmly set on becoming the first British heavyweight champion to unify the division since Lennox Lewis.
"I could have had a world title fight four times already but there was no point in taking a voluntary for no money," explains Fury. "I need to be mandatory to get some money and make the fight worth doing. I'll be number two with the IBF if I win this fight, three of four with the WBC, and then I'll fight Thompson and that should do it."
Many see the Cunningham fight as a potential eliminator that could see the winner earn a shot at Wladimir Klitschko. But how would Fury cope against a fighter who has not lost for nearly nine years and has perfected the art of dissecting opponents with a ramrod jab and impressive defence?
Perhaps Fury will be able to learn from Corrie Sanders and Lamon Brewster, the only two men to stop Wladimir in the last 14 years. This question is put to the young pretender but he believes there are weaknesses, and that recent fighters have just been unable to exploit them.
"He hasn't fought anybody of much class recently or people haven't tried, aka David Haye," declares Fury. "But fighting me is a different kettle of fish. I am a big man, a strong man with very good movement that would give anybody in the world, in any era, problems.
"Undoubtedly I will do a job on either Vitali or Wladimir and even if I do have to go to Germany, that does not hold any fear for me."
Fury even suggests that there could be a new pair of relatives dominating the division. Younger cousin Hughie Fury may be just 18-years-old but he has an amateur pedigree that few can rival. At 6ft 6" and weighing a solid 230lbs, he is already sparring the same men as Tyson and is showing signs that he can follow in his footsteps.
"He has the tools to go all the way. He's tall, tough, fast, he throws combinations and he's a Fury, that's all the ingredients you need," states Fury. "We don't want to rush him into anything. He's the first one to win gold at the World Championships at super heavyweight so he's a very special talent and a very special kid.
"I'm sure he's going to go a long, long way. There is no doubt about it. There was the Klitschkos and soon there will be the Furys, no doubt about it."