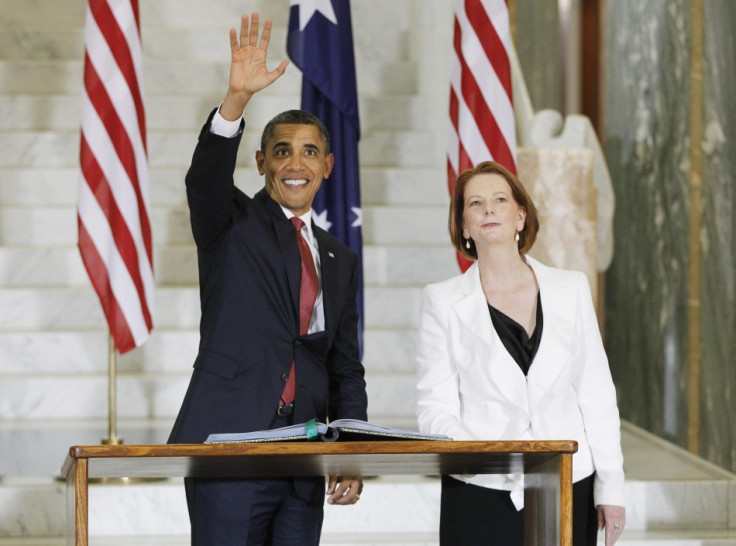 During his visit to Australia US President Barak Obama reiterated the country's intention to increase US cooperation and presence in the Asian-Pacific region.
In a speech to the Australian Parliament on Wednesday, the President announced a plan to station a full US Marine task force in Australia by 2016 and insisted the "The United States is a Pacific power, and we are here to stay."
The comments, which many saw as directly directed to China, represent a clear illustration of the US will to reassert its influence in the region.
"With most of the world's nuclear powers and nearly half of humanity, this region will largely define whether the century ahead will be marked by conflict or cooperation, needless suffering or human progress," Obama said.
"As president, I've therefore made a deliberate and strategic decision -- as a Pacific nation, the United States will play a larger and long-term role in shaping this region and its future, by upholding core principles and in close partnership with allies and friends.
"As we consider the future of our armed forces, we have begun a review that will identify our most important strategic interests and guide our defence priorities and spending over the coming decade. And here is what this region must know. As we end today's wars, I have directed my national security team to make our presence and missions in the Asia Pacific a top priority. As a result, reductions in U.S. defence spending will not -- I repeat, will not -- come at the expense of the Asia Pacific.," the President added.
His comments were reciprocated by the Australian Prime Minister Julia Guillard who provided details about the two countries military cooperation during a joint press conference.
"What this means in very practical detail is from mid-2012, Australia will welcome deployments of a company-size rotation of 200 to 250 Marines in the Northern Territory for around six months at a time," Gillard said , before pointing out that the number of military personnel is expected to expand to 2,500.
Obama also said the move was set to increase cooperation on a wide range of issues.
"We'll enhance our ability to train, exercise, and operate with allies and partners across the region, and that, in turn, will allow us to work with these nations to respond even faster to a wide range of challenges, including humanitarian crises and disaster relief, as well as promoting security cooperation across the region," Obama said.
Meanwhile Gillard insisted the military cooperative initiative was about "stability."
"It will be good for our Australian Defense Force to increase their capabilities by joint training, combined training, with the U.S. Marines and personnel," she said. "It will mean that we are postured to better respond together, along with other partners in the Asia Pacific, to any regional contingency, including the provision of humanitarian assistance and dealing with natural disasters."
Her comments are however set to be questioned by China, as the country is wary of US influence and presence in the region.
Chinese officials have until now avoided to make harsh comments about Obama and Guillard's announcement but Xinhua, the official news agency has questioned the move and its consequences, with a commentary on an article saying "Technically, Obama's aggressive step venturing into Asia is not merely a premature but a risky move, even if he insists this would do some good to his 2012 campaign. But to his Asian allies, it is more of a hindrance than a help."