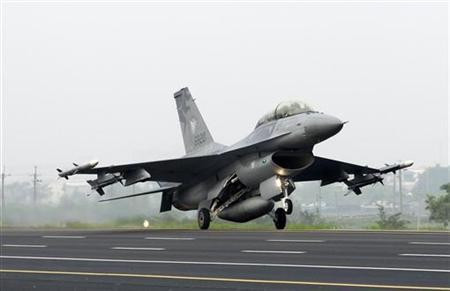 China's military has warned that Washington's multibillion arms deal with Taiwan would become a "serious obstacle" to U.S.-China military relations, the state-run Xinhua news agency reported.
Beijing has reacted angrily at the U.S. intention to help Taiwan improve its air force by providing advanced radars, munitions and missiles, which could now prove a setback for the Obama administration following efforts to build a closer and stronger relationship with China.
"[The U.S. move] will create a serious obstacle to developing normal exchanges between the two militaries," the Ministry of Defence warned in a statement before adding that the "US has ignored China's firm opposition and insisted on selling arms to Taiwan."
Chinese Vice Foreign Minister Zhang Zhijun also criticised the deal, according to Xinhua.
"China strongly urges the United States to be fully aware of the high sensitivity and serious harm of the issue, seriously treat the solemn stance of China, honour its commitment and immediately cancel the wrong decision," Zhang said.
"The wrongdoing by the U.S. side will inevitably undermine bilateral relations as well as exchanges and cooperation in military and security areas," he added.
The news came as the U.S. rejected Taiwan's request to buy 66 advanced F-16 fighter jets Wednesday, as Taiwan marked its intention to catch up with the military power of its rival, China.
Washington instead proposed to upgrade Taiwan's fleet of older U.S.-made F-16s as part of a $5.3 billion arms package which also include a five year extension of F-16 pilot training at Luke Air Force Base in Arizona and spare parts for the upkeep of three different planes currently in use by the Taiwanese, according to State Department spokeswoman Victoria Nuland.
"We firmly believe that our arms sales to Taiwan contribute to the maintenance of peace and stability across the Taiwan Strait," she said.
Although Taiwan's relations with China, just 160 kilometres away, have improved in recent years, rivalry and tensions are still present, causing the island's government to worry it could not stand up against China, should Beijing' stance change.
Tensions between the two Asian countries reached a peak after Chiang Kai-shek's Nationalists lost the Chinese civil war of the 1940s and found refuge in Taiwan, but China's Communists still claim sovereignty over self-ruled Taiwan.
Meanwhile, in 1979, the U.S. implemented its "one China" policy and switched diplomatic recognition from Taipei to Beijing, but is still required to help defend the island if needed under the Taiwan Relations Act obligates.
With China now focusing on modernizing its military, regional tensions are starting to resurface and the U.S.-Taiwan arms deal is only set to further increase Beijing's concerns towards the island and suspicions towards the U.S., which also happens to be Taiwan's main arms supplier.
As just last year, Beijing broke off military contacts with Washington as a form of protest against a $6 billion arms sell which included Patriot missiles, Black Hawk helicopters and communications equipment, so it remains to see what will now be Beijing's next move.