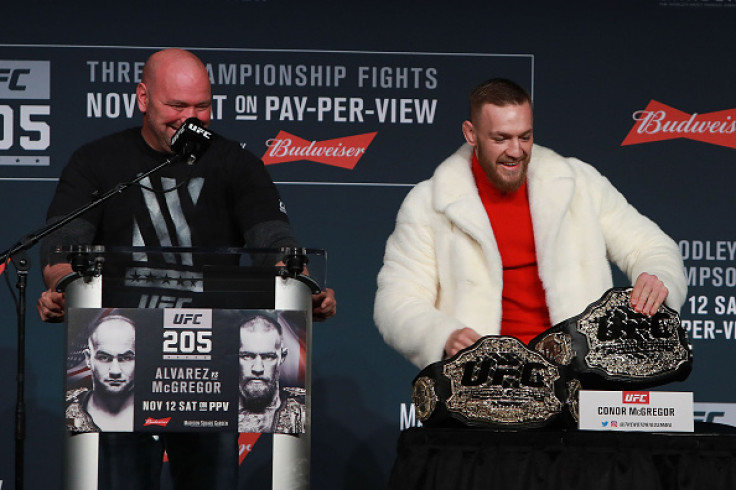 Ultimate Fighting Championship (UFC) president Dana White has confirmed the promotion's star fighter Conor McGregor's rumoured fight with boxing legend Floyd Mayweather will not take place. He claims both fighters are not interested in facing each other in a boxing ring.
This comes after the 28-year-old obtained boxing licence from California that fuelled the rumours that the fight between the pair could be on the cards. The Irishman's training partner Artem Lobov wants the fight to take place as he remains confident that the UFC star will come out victorious, while also suggesting the American boxer fears that his unbeaten record could come to an end against McGregor.
"He is not fighting Floyd Mayweather. Floyd Mayweather isn't going to fight him. It's never going to happen," White explained, as reported by UFC's official website.
Mayweather has never lost a fight and has won all his 49 fights in his career. His last fight was in Septmeber 2015, when he defeated Andre Berto. Prior to that, he defeated Manny Pacquiao in a fight billed as "The Fight of the Century."
After years of rumours, it was confirmed that Mayweather and Pacquiao will face each other, which ended in the American's favour in May 2015. The negotiations went long and UFC president has pinpointed this as another reason why the fight between McGregor and the boxing legend will not take place.
"If you look at the any fight anybody has ever talked about at the time was Manny Pacquiao and Floyd Mayweather. Look how long it took for that fight to be made. Those guys were in the same sport."
"I'm not taking anything away from Floyd. Listen, no matter what you are doing, the timing, whatever it is, to go undefeated for 20 years, it is a huge feat. It's incredible," he explained.
"Floyd is been perfect in fighting right guys at the right time. He isn't going to get in there and mix it up with Conor."
"Knowing what you know about Conor, just from what you seen, without even knowing him personally, do you think that if he and Floyd get into the ring and mixing it up, Conor McGregor might hit him with a spinning back kick to the body? Even if it was pure boxing, doesn't mean he cannot throw a kick."