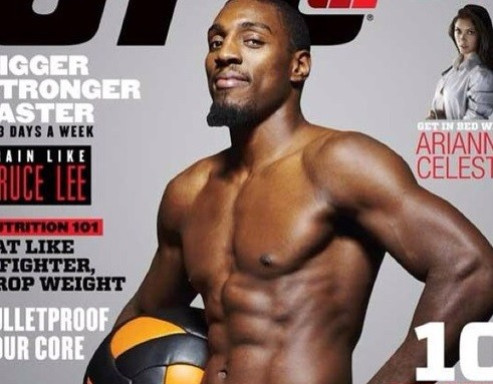 UFC star Phil Davis is at the centre of a domestic violence scandal after the mother of his son accused him of choking her during sex and threatening to kill her.
Vantris Patterson, who is currently embroiled in a bitter custody battle with Davis, claims that she was subjected to brutality at the hands of the mixed marital arts fighter a number of times.
In court documents obtained by celebrity site TMZ.com, Patterson recalls one particular day when Davis allegedly body slammed her on a sofa with such force that when the sofa slid into the wall, paint came off.
She submitted pictures of the alleged injuries that resulted from these violent episodes.
Patterson also claims that the sportsman would often choke her during intercourse, and when she'd plead with him to stop he'd respond, "Shut the f*** up, bitch."
She says Davis has threatened to kill her numerous times if she ever slept with another man.
Patterson insists that Davis's violent outbursts have escalated he became a successful UFC fighter.
"I am afraid that the numerous fights have negatively impacted his mental stability," she told TMZ.
In addition she claims that she cannot defend herself because of his "increased attacking ability."
Davies has denied all allegations against him, claiming Patterson is the violent one.
He says she has threatened his life and even texted him saying: "I can't wait until the day you die so I can spit in ur face [painful and slow]."
The pair are due to meet in court on 7 May in San Diego, California where Patterson will begin her petition for full custody of their son.
In addition to mutual restraining orders, they are both seeking custody of their child.