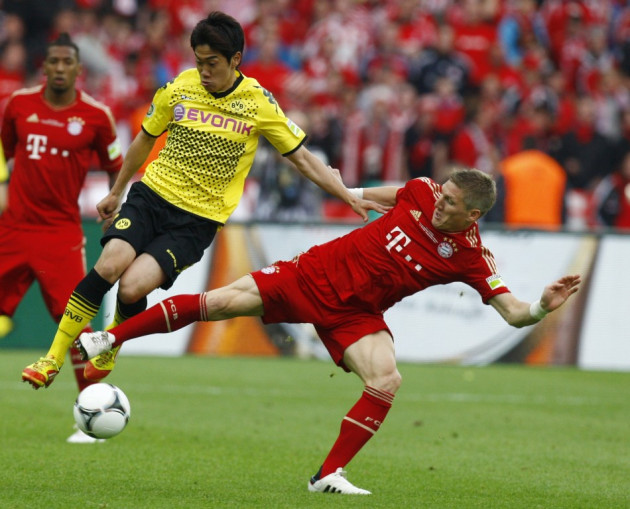 Manchester United are not looking to sign Borussia Dortmund playmaker Shinji Kagawa purely to sell shirts, according to commercial director Richard Arnold.
Kagawa is reportedly on the verge of a €15m move to Old Trafford after Dortmund sporting director Michael Zorc said "some details are still to be confirmed".
And with speculation that Manchester United's South Korean midfielder Park Ji-Sung could leave the club this summer, some media outlets have suggested the signing of Kagawa has been fuelled by commercial, rather than footballing, interests.
"We don't sign players to sell shirts," Arnold told ESPN Soccernet. "We are reliant on 25 players and they are all massive stars. We have 25 George Clooneys.
"When you look at the success we've seen in that part of the world [Asia], it isn't down to any one player or person. Of course, Ji is a fantastic player, was captain of the South Korea team and continues to be a key part of our squad.
"But for Manchester United, it's more than any one player. It was more than George Best, it was more than Bryan Robson, it was more than David Beckham, it was more than Cantona, than Park.
"Ji is very popular in Korea, just as Javier Hernandez is hugely popular in Mexico, but Paul Scholes has his own Chinese character. These are huge stars and the big stars are the big stars in every country. Out games are shown in 1.1 billion homes across the globe and you think 'which film does that 60 times a year?'
"Be it George Clooney or Brad Pitt, what is there where that is shown? There just isn't anything like it."
Nevertheless, Kagawa's commercial prospects will be significant in a market as large as Asia. New research shows that Sir Alex Ferguson's team garner support from 10 percent of the world's entire population, estimated 659m followers.
Their closest rivals are Barcelona but United enjoy twice the support in Asia, a market that will surely be bolstered by the Kagawa deal.
Market research firm Kantar collected responses from 54,000 people across 39 countries through online and face to face interviews.
"Our family of followers has doubled in five years and across the world this represents a very, very important asset and relationship for the club," said Arnold.