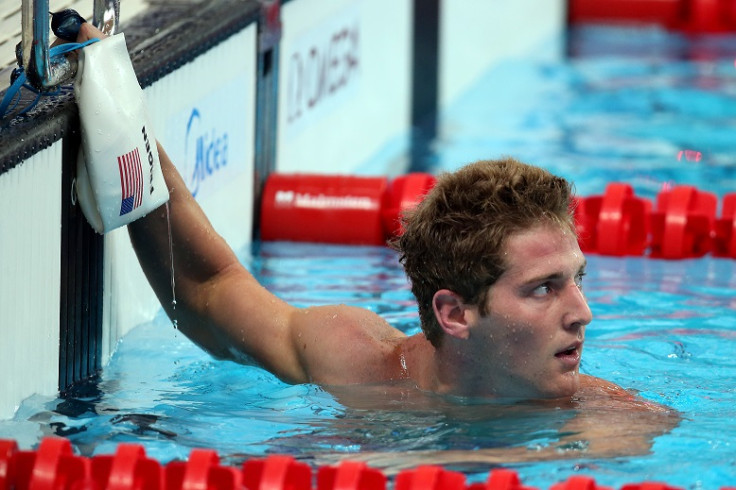 One of the US simmers caught up in the Ryan Lochte 'robbery' controversy has donated almost $11,000 to charity to avoid criminal charges and have his passport returned so he can fly back to the United States.
Jimmy Feigen was caught up in what teammate Lochte described as a gunpoint robbery outside a petrol station on Sunday (14 August) along with his 4x100m freestyle relay teammates Gunnar Bentz and Jack Conger.
The incident was investigated but doubts began to surface about Lochte's initial story with Brazilian authorities suspecting he fabricated the original account. He has now made the donation to draw a line under the embarrassing incident.
"After a long deliberation, this agreement was reached[.] He will donate 35,000 real [approximately $10,800, £8,200] to an institute, and with that the case is resolved," Feigen's lawyer Breno Melaragno told reporters. "After this donation is done, his passport will be given back to him, and he will be free to return home."
How the story unravelled
Lochte claimed the quartet were held at gunpoint after a night out at Club France but police could not find any evidence to support Lochte's claims and found the 12-time Olympic medal winner's version of events differed from Feigen's.
A judge also highlighted how the swimmers recounted they had left a club at 4am but CCTV showed them leaving hours later. It was also noted how the men had a "calm demeanor" as they passed re-entered the Olympic Village and how all four were still wearing their watches, which would likely have been stolen.
The investigation continued as a spokesman for the Rio Games apologised to the US athletes for "the violence they have been through" but questions remained unanswered.
By this time Lochte had already returned to the US before Bentz and Conger were taken off a US-bound plane on Wednesday for further questioning before being allowed to travel back the next day.
Police then announced that the four swimmers had not been held at gunpoint after all. They stated the men had been questioned by security guards at the petrol station over a damaged bathroom door before handing over some cash and leaving in their taxi.
The United States Olympic Committee subsequently issued an apology to Olympic organisers: "On behalf of the United States Olympic Committee, we apologise to our hosts in Rio and the people of Brazil for this distracting ordeal in the midst of what should rightly be a celebration of excellence."