The United States Anti-Doping Agency's 1,000-page report into the practices adopted by the US Postal Service cycling team thrust the public into the saddle of a systematic and sophisticated doping programme during the sport's infamous 'renewal' period.
The seven-year Operación Puerto investigation and subsequent trial of Spanish Doctor Eufemiano Fuentes has similarly handed the public an implicit insight into the devilish medical operations and grave risks athletes take in order to reach the summit of their sport.
The entwined affairs have together worked to raise questions over the sustainability, comprehensiveness and focus of sport's battle against doping. Both affairs exposed how robust scheduling can evade and defy even the most rigorous of testing procedures.
So will the Armstrong report and Puerto trial be a watershed moment? Nick Howson investigates how sport is reacting to the substantial crack in its' armoury.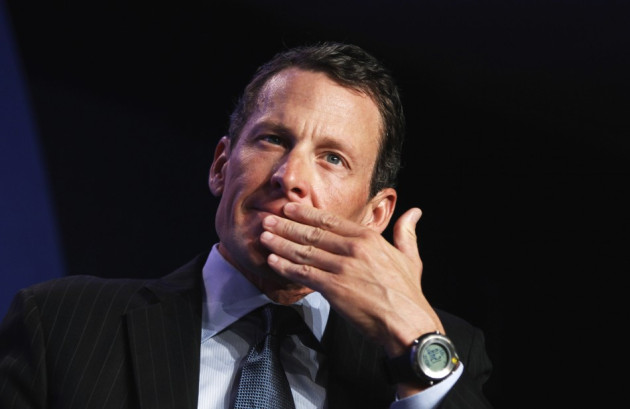 In hounding and stalking Lance Armstrong's doping history, The Sunday Times' chief sports writer David Walsh carved out a handy niche among cycling's journalistic peloton.
Along with ex-L'Equipe journalist Pierre Ballester, co-author of LA Confidential, one of sporting literature's most underrated pieces of work, the pair gave the public reason to question excellence, rather than immediately embrace it.
The message has been belatedly adopted, but in the summer of 2012 athletes from China's double Olympic swimming champion Ye Shiwen to Great Britain's first-ever winner of the Tour de France Bradley Wiggins, have had their sporting integrity scrutinised. The dilution of sporting achievement is a small price to pay for clean competition previously tainted by deceit.
UK anti-doping agency chief-executive Andy Parkinson told IBTimes UK:"I think it's unfortunate that we're less naive than we used to be because ideally you just want to watch sport and believe everything that you see; those days are gone.
"I think that absolutely the public has the right to question the integrity of sport in this era.
"At some point in our life we will have children who play sport and we've got to be part of the solution and the only way to be part of the solution is to understand what the potential problem is."
As the bickering between the International Cycling Union and Usada displayed, not least amid the report's allegations of the governing body accepting illicit payments from Armstrong, sport's decision makers can often undermine the challenge of fighting doping.
Professional boxing faces the confusing scenario of four conflicting sanctioning bodies ruling above the national or district's governing body who administer a single fight. In America, the venue for the highest grossing fights of the last decade, each state is governed by its own rules, no blanket US boxing board of control exists.
Robert Smith, the British Boxing Board of Control secretary, explained to IBTimes UK: "The problem with professional boxing is that there is no world governing body.
"Even in American there is no American boxing board of control so each state has its own commission which is government appointed, which is different from Great Britain because we're not government appointed and are funded by the state.
"You can move from Nevada to California where the rules on particular issues are different. In Great Britain we are extremely serious on dope testing and drug taking and that's why we're doing what we're doing but the rest of the world do things very differently.
"The established European countries are very good but it does change where you are."
Smith has no complaints over the treatment of British fighters stateside but it remains clear the structure of the sport complicates the testing procedure. Victor Conte, who worked indirectly with Amir Khan and was jailed for four years in 2005 after steroid distribution, claimed three years ago that boxing's attempts to catch drug cheats was 'inept'.
In stark contrast to amateur boxing, the individual governing bodies don't come under the World Anti-Doping Agency's jurisdiction, and are therefore primarily self-regulating.
A recent increase in blood testing has sought to improve the comprehensive testing process, but British heavyweight champion David Price's admission last October that he hasn't been tested for blood since turning pro, coupled with the Nevada state commission's refusal to carry out such a test, suggests the sport continues to play catch up.
Boxing has already lost its biggest pay-day due to having an inadequate anti-doping programme. Floyd Mayweather's demands that Manny Pacquiao take a blood test three weeks before a prospective bout between the pair four years ago continues to be a bone of contention between the two. Had the test been mandatory, Mayweather's scare tactics would have been truly tested.
But if the death of Michael Norgrove has raised alarm bells over the safety of fighters, then the governing bodies have an obligation to their competitors due to the physicality of the sport, to provide thorough protection. Tony Thompson's recent proposal that doping be permitted suggests education over safety could improve also.
"For him [Thompson] to make comments like that doesn't help but it doesn't make any difference to what we are ultimately trying to achieve," Smith said.
"Boxing is ultimately is a very tough, physical and dangerous sport and we've got to make it safe as humanly possible. We're never going to make it 100% safe because of the nature of the sport.
"We want to make sure that in this country the sport is as safe as possible and that actually means trying to stamp out dope testing as well.
"That's what I'd like to happen in Great Britain and I'm sure ultimately I'd like it to happen throughout the world. Whether that will happen I haven't got a clue but certainly in this country we're trying our very best."
The difficulties experienced in boxing, in relation to structure and the struggles with producing a robust doping programme are somewhat mirrored in tennis.
The International Tennis Federation is responsible for configuring the testing programme across events on the ATP and WTA tours as well as at grand slams events.
Co-operation from each of the sports main stakeholders may be comprehensive, but the robust nature of the testing remains questionable.
Blood tests in tennis contributed to just 8% of the total specimens taken in 2012, with in-competition tests lower than they were two years previous. Of upmost concern however is, according to former British No.1 Tim Henman, the decline in blood testing is indicative of the entire programme.
"Certainly from what I've heard, drug testing in terms of the number of times that they're tested is less," Henman revealed to IBTimes UK.
"I can remember in 2004, which was one of my best years, I was probably blood tested four or five times in that year and some of those were out of competition but also the urine testing was probably about 20 times that year.
"It seems like it has gone down but with the revelations from cycling and the whole Lance Armstrong case and what people have learned from that it's clear to say that we need more blood testing."
World No.3 Andy Murray, in the year of his maiden Wimbledon final and grand slam success, was tested in competition at least seven times but no more than three times out of competition. Mike Bryan, one half of the record-breaking American doubles pair, has previously complained of not being blood tested out of competition at all.
Former coach to Lleyton Hewitt and Andre Agassi, Darren Cahill complained: "I would struggle to know if there is any other sport where their drug-testing programme has gone backwards in recent years."
Fearing damage to their sport, not least questions over their own integrity, messieurs Murray, Novak Djokovic and Roger Federer have all demanded radical changes to the programme after the inadequate statistical data released by the ITF. The biological passport was as a result introduced for 2013.
The complexity of the passport means meaningful results will take time to come to fruition, but it works to add conviction to claims tennis, a sport rarely defiled by such controversy but yet not possessing genuine safeguards, is as clean as organsiers would have us believe.
"We can never say that it doesn't or that it hasn't happened in our sport therefore we want to make the deterrent as strong as possible and if that's what it's going to take I'm all for it," added Henman.
"As a lot of the top guys have said they really support the biological passport and hopefully that's going to keep our sport clean.
"This is a hot topic right now with what has gone on in cycling and it's a topic that all sports are aware of and I think it's great that the players are the driving force behind it."
But if improving the sustainability of the testing procedure remains the biggest challenge for governing bodies, then the funding restrictions in place make ruling with an iron fist and keeping up with the cheats an insurmountable task.
"It's not a matter of sending a tester to someone's house or a place of competition; you have to have qualified people to go with them to take blood," explained Smith.
"Blood is a relatively new thing in boxing for us to take, we've only just started to be involved in it and were very happy for that to happen but ultimately UKAD have to arrange it when we book testing.
"It has to be arranged and the right qualified people have to do this and I'm sure they can't just click fingers and someone suddenly turns up at the door. It's a logistical problem but it's being done."
In 2011/12 UKAD were handed just £6.34m by their primary benefactor the Department of Culture, Media and Sport, support which equates to 0.23% of the government department's total annual expenditure. That amount will be reduced to £5.72m for 2014/15.
Regardless of the motivation, the alleged payments made by Armstrong to the UCI in both 2002 and 2007 has highlighted the conflict of interests some anti-doping bodes face when attempting to generate extra funds.
Parkinson continues to be wary of treading the thin line.
"The challenge, as we've seen from the Armstrong case, the ability for anti-doping programmes to generate private income is limited because what you don't want your decision making to be influenced by people who are providing you with money," maintained the UKAD chief.
"That makes it a challenging environment to be in and we've got to be realistic that we're in a fairly horrible economic climate at the moment world-wide so as a government funded agency we are obviously going to take some of the pain of the cuts that are happening at the moment.
"The bigger issue for me is if you look at the WADA funding and the national anti-doping agency organisations world-wide it is just a miniscule amount in comparison to the money that is generated through the sports sector.
"It's always going to be challenge with limited resources to tackle doping which is starting to get far more involved and imbedded in society and being more and more of an issue that crosses into sport and into other areas of life.
"Kids taking anabolic steroids so that they can have six-pack, that is starting to creep into our society and that's a bit of worry because our resources only allow us to tackle the sporting aspect."
Criticism from former WADA chairman Dick Pound and a host of tour players has forced organisers for the four grand slam tournaments to increase their contribution towards anti-doping, which currently leaves the ITF with a miserly £1.05m budget with which to tackle sports' ultimate poison.
As Armstrong proved through his spell at the summit of cycling, sportsmen and women have the potential to dodge protocols and move faster than the technology and provision of the testers. The alarming resurfacing of GW501516 suggests the battle between governance and competitors is being edged by those on the start line.
Next week the verdict from the Fuentes trial is expected to be announced. The Spanish doctor has threatened to reveal the names of his clients outside of the world of cycling, which includes footballers and tennis players. The blood bags seized by police in 2006 are still to be handed over to Wada for identification. An inquiry into the actions of Guido Nigrelli, linked with the Lampre cycling team in 2008-2009 will also simultaneously commence.
The Armstrong case, as it has rapidly become known, was always likely to be a watershed moment for sport. But while strategies are being tightened, education is becoming broader and funding is being improved, the full revelations of the scandal has exposed a chasm in the system, not least opened the door to further investigations. The Festina affair proved that.
So if USPS's actions appeared to be exposed as the exception, they have instead acted as a dangerous rule.