Venezuelan security forces subdued several thousand anti-government demonstrators with tear gas, water cannon and pepper spray in Caracas on Tuesday (4 April) after blocking an opposition rally against socialist President Nicolas Maduro, in the country's largest and most violent protests in months.
The demonstrators were trying to accompany opposition lawmakers in a march to the National Assembly for a session, where they planned to debate removing Supreme Court magistrates, who issued a ruling last week removing the last vestiges of power from the opposition-controlled congress. Although the court retracted that ruling over the weekend, the National Assembly remains powerless due to previous court judgments and anger remains simmering in the country with no peaceful resolution expected anytime soon.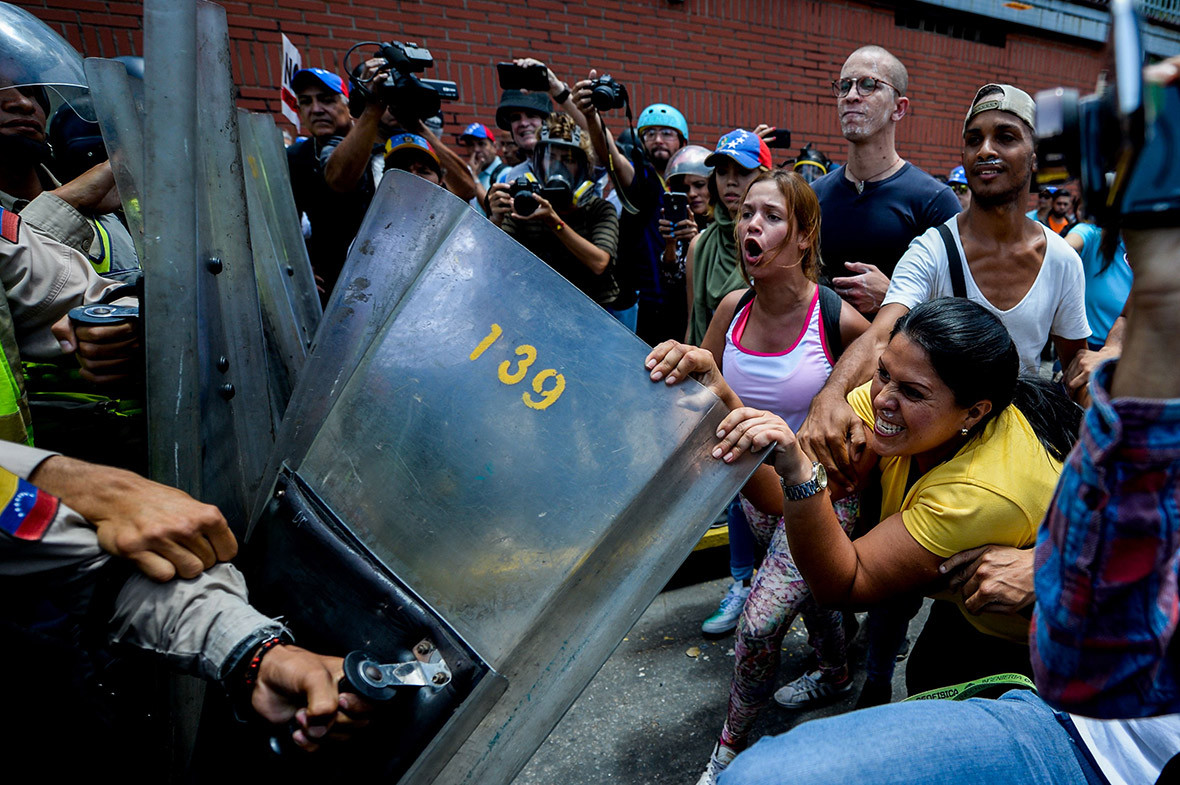 Clashes broke out after authorities closed underground railway stations, set up checkpoints and cordoned off a square where opponents had planned their latest protest against the autocratic government and a crippling economic crisis. Demonstrators built barricades, burned rubbish and hurled rocks and bottles at soldiers and police. Various opposition leaders organised roadblocks. Police used pepper spray on rights activist Lilian Tintori, National Assembly head Julio Borges and two-time presidential candidate Henrique Capriles, as they led protesters onto highways and jostled at barricades, witnesses told Reuters.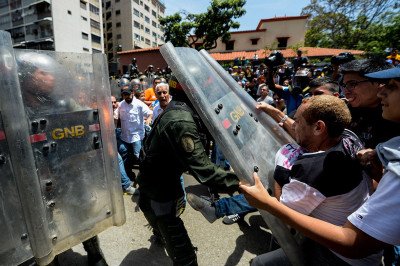 In one street, one woman knelt down and sang the national anthem, as neighbours banged pots and pans from nearby buildings, in a show of anger against a government they blame for a deep recession that has led to shortages of food and basics. Meanwhile pro-Madura residents in a state housing project threw rubbish onto protesters below. "We're going to get rid of them but we have to fight," said 57-year-old electrician Jose Zapata.
Tensions are high, and the opposition, which had been beset by divisions and struggling to draw people into the streets of late, seems more energised and united than it has in a long time. "Our demands are crystal clear," said the opposition's Capriles, standing beside a barricade of giant boulders hastily assembled by activists to block traffic heading downtown. "We all have to unite our forces because Maduro has chosen the path of dictatorship."
Due to the chaos in Caracas, the legislature postponed until Wednesday (5 April) a session to censure the "rupture" of Venezuela's constitution. Legislators also plan this week to start proceedings to remove Supreme Court judges but that would only be a symbolic rebuke since congress has no power to act.