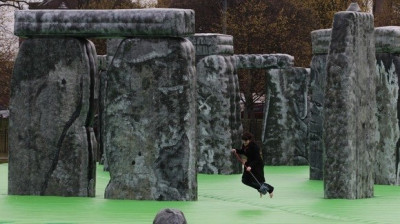 A bouncy new presence has surprised visitors at east London's Victoria Park with a life-sized, inflatable Stonehenge appearing on the grass.
Sacrilege, the fluffy replica of Britain's most famous prehistoric monument, was created by Turner Prize-winning artist Jeremy Deller and appeared in Victoria Park in Hackney as part of BT London Live, which celebrates the London 2012 Olympic Games.
"A lot of my work deals with history and Sacrilege is no exception. This is a way to get reacquainted with ancient Britain with your shoes off," said the 46-year-old British artist.
The massive bouncy castle gives Olympics supporters the chance to take off their shoes for a fun and exercise break between the sporting events. The inflatable is close to the big screen, transmitting live action from the Games a few miles down the road.
"Sacrilege is a wonderfully witty, quite literal leap into that history and a fantastic example of the irreverence that are hallmarks of our humour and our incomparable artists. I have no doubt it will be a great hit with Londoners as well as visitors to the capital," said London mayor Boris Johnson.
The bouncy Stonehenge has been travelling to 25 venues around the country with support from Arts Council England, as part of London 2012 Festival, although Hackney was not in the original schedule.
"I just wanted to make something that was open to the public, and free, and fun," Deller said.
"We haven't had any human sacrifices yet, but we've had a few grazed knees and banged heads."
Alan Davey, chief executive of Arts Council England said: "Deller's playful and irreverent work is bound to capture the hearts, minds and inner child of people across the country."