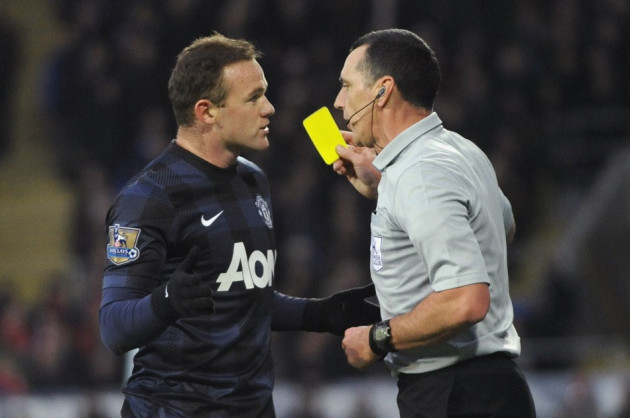 Manchester United striker Wayne Rooney has entered a war of words with Liverpool legend Graeme Souness after the England international escaped a red card after kicking out at Jordan Mutch in the 2-2 draw against Cardiff City.
Rooney was only given a yellow card by referee Neil Swarbrick for kicking Mutch in the first half and went on to score United's opener before setting up Patrice Evra from a corner after Frazier Campbell's equaliser.
Kim Bo-Kyung levelled in stoppage-time for newly promoted Cardiff but Rooney's kick on Mutch was the main post-match talking point.
The 27 year old later wrote on Twitter: "Just watched game back. I agree mine was bad tackle and ref dealt with it. And Martin Tyler didn't shut up about it all game."
While working for Sky Sports, Souness, the ex-Liverpool midfielder, criticised Rooney and said Swarbrick was wrong for not dismissing him.
"I don't know what Wayne is thinking of," he said. "He's got an exploding head, we know that. That's just borne out frustration.
"He should be off, there's no argument," the former Liverpool man said. "Why the ref has given him a yellow card is beyond me. He's got a great view of it. If he's booked him, he's seen something. If he sees that, it's a sending off."
Despite having a strong afinity with Liverpool, Souness is not known for shying away from criticising both his former side or their rivals in his role as one of Sky Sports' primary football pundits.
While Swarbrick's punishment for Rooney's kick was lenient, the official failed to punish either Gary Medel or Marouane Fellaini after a coming together later in the game, which saw the Chile international appear to strike the United midfielder.
Rooney added: "Then someone slaps someone in face and he doesn't speak a word about it. I like Martin but that's poor from him.
"Sourness [sic] the rules are u kick out u should be off. Souness Medel gives left hook he's done his job. Haha brilliant. Sourness was sarcastic for everyone biting."
In his formative years, Rooney earned an unwanted reputation for a fiery temper, however, having not been sent off or over two years has shown signs of curbing his attitude.
United boss David Moyes said: "The boy (Mutch) runs across his path and there's a bit of a tussle, but I didn't think it deserved any more than a yellow card.
"I don't think it was a lashing-out, I think it was more that he felt hard done-by with the boy running across his path with the ball.
"I didn't think it was a lash out to cause any harm, I think it was more of a disappointment that he lost the ball."
Cardiff manager Malkay Mackay said: "Overall, I thought the referee called it right. I've seen Rooney's [yellow card] and certain referees might have sent him off for that.
"Overall, Neil Swarbrick did well and I thought he called the big decisions well today."