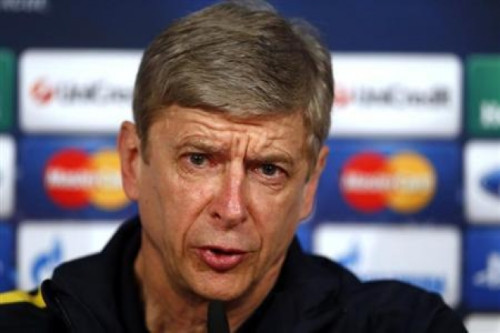 Arsenal manager Arsene Wenger has hinted he may resist making new signings in the January transfer window after identifying Serge Gnabry and Alex Oxlade-Chamberlain as solutions to the club's attacking crisis.
Walcott was ruled out for the rest of the season on Monday and will also miss the summer's World Cup finals in Brazil after tearing his anterior cruciate knee ligaments during the FA Cup win over Tottenham Hotspur.
Wenger was expected to add to Arsenal's attack in the January window after injuries to Olivier Giroud and Nicklas Bendtner left Lukas Podolski as the only recognised attacker and while the Frenchman recognises the need to strengthen he is keen to trust his squad's peripheral members.
"[Walcott's injury] has accelerated speculation first and of course my desire as well - but let's not forget about Serge Gnabry who can play in the first team," Wenger told the club's official website.
"We have [Alex] Oxlade-Chamberlain back and we have many other players who can play on the flanks so to find better solutions than what we have internally will not be easy.
"Up front we lose Theo as a potential central forward and that's maybe where we have to look outside. But we hopefully have [Nicklas] Bendtner back in three weeks.
"We are there for the opportunities but it's very difficult at the moment."
IBTimes UK understands that Arsenal officials will on Friday hold talks with one of Wenger's targets in the window in the form of Real Madrid forward Alvaro Morata, who would be available on a loan deal.
Wenger has reportedly informed Arsenal scouts he requires a short-term solution to his attacking problems and the Gunners boss has reaffirmed that declaration by stating he is open to a loan move in January.
"Nothing has changed. We are open to a possible situation and it could be a loan," said Wenger.
"We have no shortage unless we have other big injuries. The transfer market is a distraction and not welcome.
"I have enough players everywhere else."