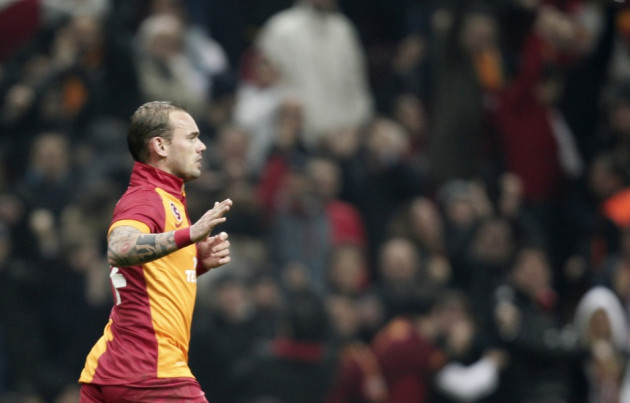 Holland national team coach Louis Van Gaal wants Galatasaray midfielder Wesley Sneijder to reunite with his former club manager Jose Mourinho at Chelsea.
Sneijder was subject to an offer from Manchester United in the closing weeks of the summer transfer window as the Premier League champions desperately sought to remedy their weakened midfield, but the approach was rejected by the Turkish giants.
But his national team coach Van Gaal has recommended the 29-year-old once again link up with Mourinho, who Sneijder enjoyed perhaps the best football of his career under during the Chelsea manager's spell at Inter Milan in 2010 that culminated in a treble success.
"I know Chelsea and Jose Mourinho want Sneijder," Van Gaal was quoted as saying by talkSPORT.
"In my opinion, if possible Sneijder should leave Galatasaray and join Chelsea.
"Playing under Mourinho again would improve his performances and help him regain his form for the national team."
The Holland international left Inter during the January transfer window, having not made a single appearance for the club in over three months as a contract impasse soured his relationship with the Nerazzurri.
A move to Galatasaray, who are now managed by former Manchester City boss Roberto Mancini, followed allowing the midfielder to regain a consistent starting role, but he has been frequently linked with a move back to one of Europe's major leagues.
A long speculated move to Old Trafford was blocked by the Turkish champions in the final weeks of the transfer window, during a time when United also failed in their attempts so sign Cesc Fabregas, Thiago Alcantara, Ander Herrera and Sami Khedira.
"Sneijder received an indirect offer from Manchester United... but it was not accepted," Galatasaray's sporting coordinator Bulent Tulun said in early September.
"There are several clubs that want him but just like we can't let go of Burak (Yilmaz) we also have to keep hold of Sneijder."
Mancini's side have recently changed their stance concerning their striker Yilmaz, welcoming future bids from Chelsea, but could have to fend off interest in their prized asset Sneijder.