UK parents are being told to stay alert for signs of their children engaging in a disturbing social media game that has been linked to at least 130 deaths in Russia.
Safety fears were raised after a UK police force and a local school warned of the terrifying threat of the Blue Whale game – an alleged clandestine online game run by anonymous 'Masters' that encourage participants to compete in a disturbing series of challenges.
What is the Blue Whale game?
The Blue Whale Game or Blue Whale Challenge reportedly stems from an online social group where its administrators, referred to as 'Masters', issue tests to participants over the course of a 50-day challenge.
These challenges allegedly begin as innocuous requests, such as watching horror films or waking up at a particular time of night. As the 'game' progresses participants are then subjected to increasingly harmful demands – most notably carving the outline of a blue whale on their own skin.
To 'win' the game, the players are reportedly ordered to commit suicide. It has also been reported that those unwilling to follow the final order are told that their families will be killed.
The game is also reportedly spread under several other names, such as 'I'm in the game', 'Wake me at 4:20', F57, 'A Quiet House/A Silent House', all via social hashtags.
Where does the Blue Whale game come from and is it real?
Initial reports of Blue Whale games originated from Russia where around 130 youth suicides between November 2015 and April 2016 have been linked to the deadly challenge by certain national publications. This number has been heavily disputed, however.
Radio Free Europe noted in February that "dozens of suicides and attempted suicides in Russia, Kazakhstan, and Kyrgyzstan have been provisionally linked to the game" without conclusive evidence. The site did, however, interact with a self-proclaimed curator of the Blue Whale game on Russian social media site "VKontakte", which can be read here.
What Blue Whale cases have been reported and who is at risk?
Reports claim that Blue Whale victims are primarily teenage girls, with the aforementioned Russian site VKontakte often linked to the game.
The most publicised case attributed to the Blue Whale challenge relates to the deaths of 15-year-old Yulia Konstantinova and her friend 16-year-old Veronika Volkova on 26 February 2017, who both fell to their deaths from the roof of a 14-storey block of flats in the Irkutsk city of Ust-Ilimsk.
Local reports claimed the pair had engaged in the suicide game on the social platform. Konstantinova allegedly posted an image of a blue whale to the platform and both girls ended the thread with the word 'End' prior to their deaths.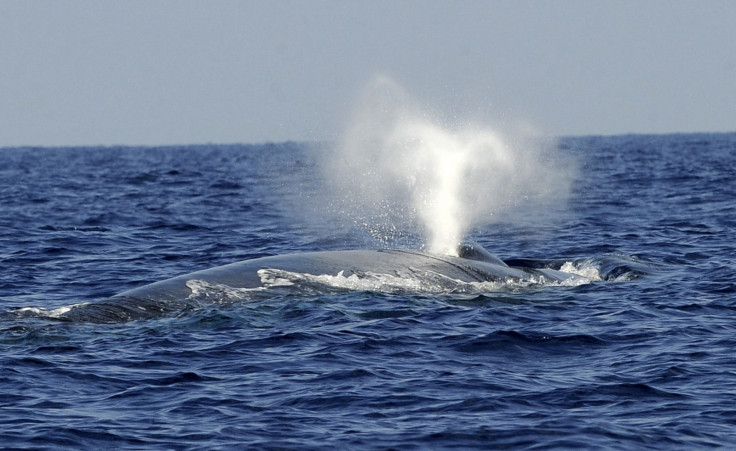 At the time, the Russian Investigative Committee (RIC) noted that "particular attention during the investigation of the criminal case will be given to the study of their social contacts on the internet."
Another case, linked to suicide social groups, involved a 14-year-old Russian girl who is believed to have died after jumping under a train.
Has the Blue Whale game come to the UK?
At present there are only unconfirmed reports of Blue Whale deaths and there is no evidence of its presence in the UK at this time.
Concerns in the UK were raised after the headteacher of Woodlands School in Basildon, Essex sent a letter to its pupils' parents addressing the 'craze'. In the letter, obtained by Essex Live, Headteacher David Wright wrote:
"We have discovered a game through the police that we feel you should be aware of. As you already know from my previous letters, we have a duty of care for our pupils and are striving to do all we can to ensure that you are given the latest information to help safeguard our young people.
It is called The Blue Whale Game and is played via many social media platforms. Players are given a master who controls them for 50 days and each day they are given a task to complete. One task might be to wake up in the middle of the night and they steadily escalate with another take being for them to scratch a blue whale somewhere on their body.
On the 50th day the masters behind the game instruct the young people to commit suicide and sadly across the world some have done this.
Please continue to support us in keeping all our young people safe and should you have any questions please do not hesitate to contact me."
The BBC has reported that "a number of police forces" are aware of the challenge. It also noted that the Hertfordshire Constabulary is advising parents "to be vigilant and monitor children's internet usage".
A Metropolitan Police spokesperson declined to comment on the topic when contacted by IBTimes UK.
What is #OpBlueWhale?
Hacktivists allegedly connected to the notorious hacker collective Anonymous have addressed the Blue Whale challenge in a campaign dubbed #OpBlueWhale.
"We launch that operation #OpBlueWhale to save all children in Europe from that dangerous game. Behind of that game is Russian, Romanian criminals. We have found all moderators of that game, and we have all information about the moderators. We will destroy that game. We have already saved a lot of children from suicide," one of the hackers said.
The Anonymous splinter group also claims to have identified some administrators involved in the game and is actively working to shut down the culprits.
---
The Samaritans provides a free support service for those who need to talk to someone in the UK and Republic of Ireland. Visit Samaritans.org or call 116 123 (UK) or 116 123 (ROI), 24 hours a day, 365 days a year. Visit this website to find a support phone number in your country.