Yesterday afternoon, Deliveroo drivers took to the streets of central London as part of a day-long strike in protest against changes to their pay and conditions.
We've become used to seeing their turquoise and black jackets and bags zipping between cars on the streets of London and other cities, but to see hundreds of them gathered en masse like this was unprecedented and striking. Many held pieces of A4 paper with printed or hand-written slogans reading "no slavery", "reject greedy Deliveroo", and "no riders, no Deliveroo".
That last simple statement of fact goes to the heart of this issue: that it is all too easy to forget that the growing availability and falling price, through new tech and the internet, of a wide range of goods and services on demand also relies on people – and those people are very often being exploited.
The rise of the 'gig economy' is good for employees who want flexibility, and it means cheaper and more convenient services for customers. But, as the Guardian's recent report into courier firm Hermes showed, it makes it all too easy for employers to get away with paying their workers a pittance, and much harder for workers to fight back.
In the cases of both Hermes and Deliveroo, workers are technically self-employed freelancers – meaning the firm does not have to pay the minimum wage or take responsibility for their safety. As an anonymous Deliveroo rider wrote in the Guardian yesterday: "In the event of an accident or injury, we're completely alone and have no access to legal help or sick pay."
This way of employing people – along with the rise in outsourcing and zero-hours contracts – is a phenomenon that undermines workplace solidarity and weakens workers' capacity for collective bargaining or industrial action.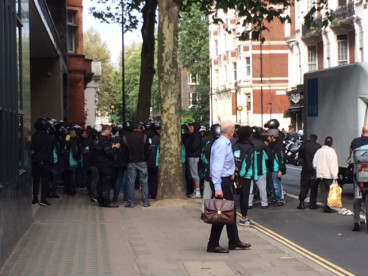 And this is one reason why yesterday's Deliveroo strike is so important. There's a common perception that trade union membership is falling because in the age of the atomised worker, solidarity is dead; or that most workers simply aren't interested in industrial action any more.
But the Deliveroo riders striking didn't do so on the instruction of their union – they don't have one. They organised themselves in response to an attack on their wages and working conditions, and had a set of concrete demands, as set out on their placards: "WE WANT: £8/HR + £1/DELIVERY + TIPS + PETROL."
Their action follows the recent strike by CitySprint cycle couriers who endure similar conditions and have seen their payments stagnate for a decade.
Casual employment and the gig economy are on the up, and they are probably the future of employment. So far, this has amounted to a full-scale attack on workers' rights that neither the government nor the trade union movement has been able to adapt to. But yesterday's strike was the start of the casual workforce fighting back – and unions, politicians and employers all need to take notice.
---
Natalie Bennett is leader of the Green Party
---