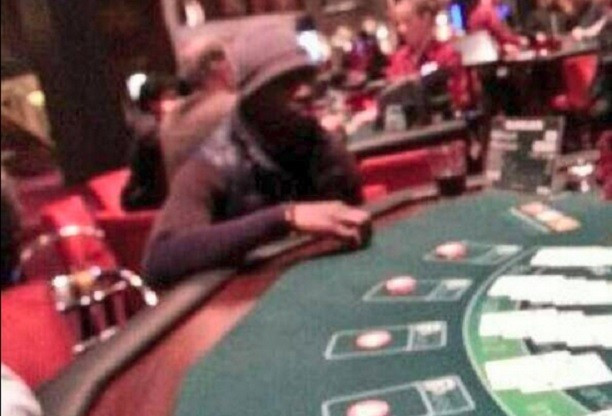 Newcastle striker Papiss Cisse faces questions about his principled stance against money lender Wonga after a photograph surfaced appearing to show him gambling in a casino.
Magpies hit-man Cisse has hit the headlines in recent days for telling chiefs at St James' Park he will not wear the club kit with sponsor Wonga on it because he is a devout Muslim.
According to the strict rules of the religion, believers must steer clear of vice, booze, money-lending - and gambling.
But a photograph uploaded to Twitter purportedly shows Cisse, 27, laying bets on a blackjack table at a branch of Aspers casino in Newcastle.
It is not possible to definitively say Cisse is the man in the image, who has pulled a hat low down over his head so his face is partially hidden from view.
There is also no suggestion that the £9m striker does not faithfully observe the tenets of his religion.
But neither the club nor the player's agent would say Cisse was not the man at the table in the photo, which was covertly snapped in Newcastle late last year.
The Mirror spoke to fans who reported seeing Cisse in the casino, who described him as "lovely guy."
According to the paper, the group manager of Aspers, Austin Graham, confirmed Cisse visited the casino more than once.
"He is an occasional visitor, as are the other footballers from any of the other clubs. We cannot go in to details about what he gambles for obvious reasons as that is confidential between him and us. He is welcome here any time."
Magpies owner Michael Ashley has faced stinging criticism in Newcastle for the shirt deal with Wonga.
The company, which provides quick, high-interest loans, has been under-fire from politicians who say hard-up consumers are exploited by the firm in to taking out loans they can not afford.
Some Newcastle fans have cast doubt on Cisse's stance on Wonga by saying he is driving a wedge between himself and the club in order to secure a big-money transfer to Russian club, Anzhi.