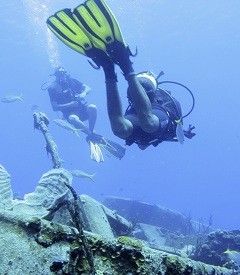 A wreck thought to be the legendary British pirate ship Port-au-Price has been discovered off the coast of Tonga and locals believe a hoard of treasure, potentially worth millions of pounds, lies buried in the historic hulk.
A diver in the South Pacific stumbled on the wreckage on a reef near the tiny island of Ha'ano, and found intact several features shared by the Port-au-Prince - notably copper cladding around the hull, which dates the ship to a year between 1780 and 1850.
Ha'ano is part of the Ha'apai archipelago - around which the Port-au-Prince is thought to have sunk in 1806.
According to local legend, the Port-au-Prince was hijacked and sunk by local tribesmen in the South Pacific. The tribesmen slaughtered the ship's commander, Captain Duck, and his crew, and stripped the vessel of its iron and copper - as these offered value to their clan.
However, legend has it that the tribal king ordered the ship to be sunk with its treasure still stowed away. It is believed the ship had around $12000 on board, plus a sizeable quantity of silver and gold ore.
"If it proves to be the Port-au-Prince then we may have treasure hunters and Tongan locals clambering to find the remains of years of successful pirate raids against the enemies of the British," said Tongan tourism official Sandra Fifita.
"It is believed that a considerable amount of copper, silver and gold is resting with the wreck, along with a number of silver candlesticks, incense pans, crucifixes and chalices," Fifita said.
Darren Rice, owner of a local resort, dove to the wreck in the wake of its discovery. In an attempt to avert a frantic treasure hunt, he said that "we want to make sure the area's properly mapped and everything that's found is photographed and documented" before the search for gold begins.
'Real Robinson Crusoe' survived

The ship's unfortunate fate became internationally famous thanks to William Mariner, a young deck-hand who escaped the massacre.
The tribesmen's king spared Mariner's life and took him to live with his tribe, reputedly because the teenager reminded him of his son.
Mariner took the name Toki Ukamea (Iron Axe) and lived in Tonga for several years before returning to Britain on a passing ship.
After making his way back to England, he wrote a detailed account of his incredible experiences.
The story of Mariner's time in Tonga bears a close resemblance to that of the fictional character Robinson Crusoe, who forged a new life on a remote island when his ship was sunk.