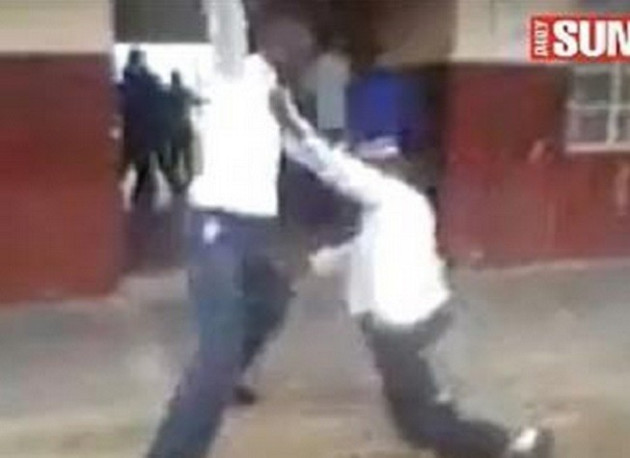 A teenager was killed with a Zulu spear during a mass school brawl that erupted from a row over traditional music.
Bongani Nkabinde, 18, was stabbed repeatedly with the tribal weapon when violence flared between two gangs devoted to different musical styles.
His death at Isizimele High School in Dannhauser, South Africa, was captured on video and uploaded to YouTube before it was taken down.
A member of the "Conquerers", Nkabinde was stabbed as he tried to protect his head from blows from rival "Bhananas" gang members.
Nkabinde's grandmother said that he had died "for the love of traditional Zulu dance" reported the Daily Sun.
Fighting was reportedly so fierce that even teachers fled for cover. Two other students were injured.
A fellow pupil claimed that conflict broke out because The Conquerors accused the Bhananas of stealing tunes.
A pupil said: "They started fighting last Friday. It seems nothing was settled so they had to fight again. Now we all fear that Bongani's crew will want revenge."
Nkabinde was rushed to hospital but could not be saved. By coincidence, his father was at the same medical facility when his son was brought in.
Nkosingephile Nkabinde, 41, said: "When I heard the news I ran through the clinic passages searching for him. I saw him lying still on a stretcher with his arms wide open. I could see he was already dead."
Seven people were arrested.
A police spokesman said: "It is believed they were carrying dangerous weapons at school including knobkerries [a club] and sticks."