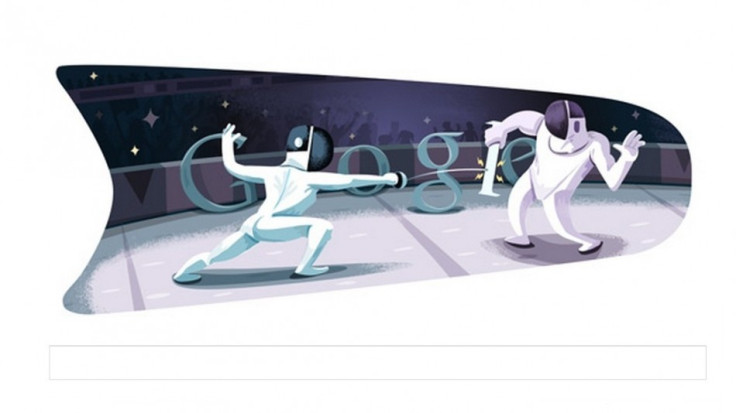 Continuing its doodles on the Olympics, Google has come out with one on fencing on 30 July, 2012.
In the graphic image, while a fencer attacks his/her opponent, the alphabet "L" in the word "Google" comes in handy for the defender. The opponent defends with the letter "L" as sparks fly out of the friction.
The new doodle, which follows the archery and diving doodles, commemorates Hungary's first gold at the 2012 London Olympics. Hungarian Aron Szilagyi's opened his country's account with the men's fencing event.
The 22-year-old is the only one representing his country among the world's top 50 and is ranked sixth.
One of the youngest players to take part in the Games, Szilagyi beat Italian Diego Occhiuzzi 15-8 in the final. Szilagyi earlier had four straight wins to reach the final.
Szilagyi won the event hands down taking a 7-0 lead against Occhiuzzi in no time while the Italian fought back to 9-5 and 12-7. But Szilagyi was in no mood to give any chances and finished the game.
Szilagyi becomes the first Hungarian to win the title since Bence Szabo who won at Barcelona in 1992.
Russian fencer Nikolay Kovalev won the bronze, beating world number one German Nicolas Limbach in the quarter-finals.
The fencing event at London 2012 was full of surprises as none of the world's top five players or the last two winners made it to the semi-finals.
Women's fencing was equally dramatic as 29-year-old Elisa Di Francisca beat three-time Olympic winner Valentina Vezzali. Vezzali, who was looking to become the first-ever woman to secure four consecutive gold medals in the Olympics, settled for a bronze in 2012.
The Italian flag-bearer at the opening ceremony said after the event: "I wanted to win a fourth (gold), but I go home with the bronze - it's ok."
All three medals went to Italy.
Google has a tradition of coming up with new doodles during the Olympics to celebrate the biggest sporting event in the world.