Leeds United supporter Aaron Cawley has been jailed for four months after pleading guilty to attacking Sheffield Wednesday goalkeeper Chris Kirkland at Sheffield Magistrates court.
The 21 year was seen invading the pitch after Michael Tonge's 77<sup>th minute equaliser during Friday's evening 1-1 draw at Hillsborough, and subsequently pushed Kirkland to the floor before returning to the away end of the ground.
The incident followed vile chanting from both sets of supporters during the game, aimed at both managers; Dave Jones and Neil Warnock, who were quick to condemn the actions of the United fan.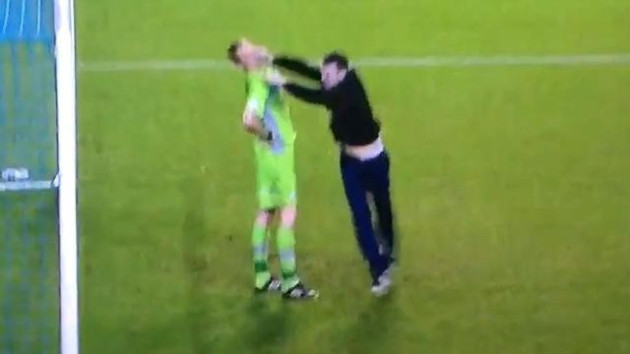 "That's an absolute disgrace; I thought that had gone out of the game," Jones said. "The authorities better look at it and they better sort it otherwise they'll keep doing it.
"I'm talking about an incident when we should be talking about the football and everything else because it's so crazy because it was a great game, high intensity, a few chances two goals.
"They should be banned from every away ground now and unfortunately one idiot has run on the pitch and punched my goalkeeper then they need to sort it."
Warnock had previously stated that Kirkland had fallen "like a tone of bricks" but has since apologised for the statement, claiming post-match that the perpetrator should be jailed.
"I was out of order," Warnock said. "Nobody should be allowed to come on the pitch and do that to Chris. After seeing it again I can understand why he was mad.
"All of a sudden you get a moron like that, there's no place for him in football," he added. "The club have made a statement, and we all agree with it; there's no place for it at all.
"I think he should be sent to prison," the former Sheffield United boss added. "We've got to make an issue of it, you can't have things like that going on on the field of play in England."
Both clubs became involved in a war of words from the terraces during the game, with Wednesday fans goading visiting supporters with chants surrounding the two Leeds fans who died in Istanbul in 2000, while away fans have been accused of reply with songs regarding the late Jimmy Savile, who currently faces allegations of sexual abuse.
Leeds United Supporters Trust chairman Gary Cooper echoed the thoughts of Jones and Warnock, but said the Owls boss was forming one-sided view of the behaviour of supporters.
"It's pretty clear that the overwhelming majority of our members see this as an act of thuggery," Cooper said. "We don't condone it.
"It appears that Dave Jones wants to blame the Leeds United supporters for everything that happened at Hillsborough," Cooper added
"As a Trust we've said for a while that we need to address the issue of distasteful chanting and we stand by that. But the Leeds fans at Hillsborough were themselves goaded with chants about Istanbul from the Wednesday fans.
"What does Mr Jones think about that? Are those supporters vile animals too?"