The Act of Killing: Documentary Recreates Indonesia's Mass Murders [FILM REVIEW+VIDEO]
Mass murderers replay their roles in slaughter of one million people during Indonesia's anti-communist purge of the 1960s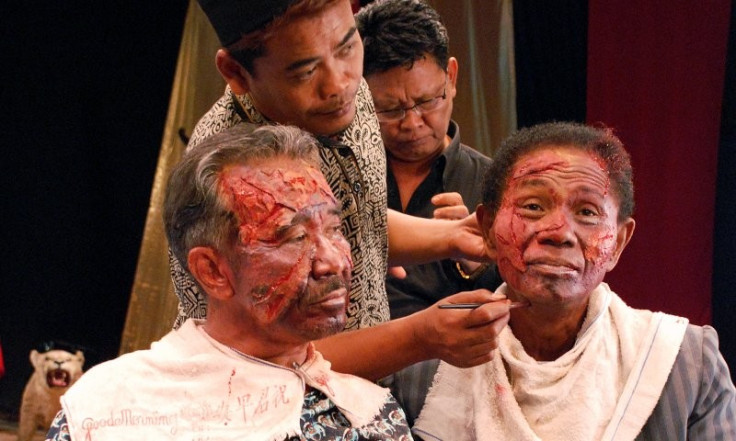 Winston Churchill once said, "History is written by the victors". While events such as the Holocaust and the exploits of the Khmer Rouge have showcased the worst of humanity, the slaughter of more than one million people in the anti-communist purge of 1965-66 in Indonesia are to this day hailed in the country as a proud moment in its history.
Joshua Oppenheimer's startling new film explores this dark moment in Indonesia's history, but through the eyes of the killers who committed the acts. Following elderly gangster Anwar Congo as he goes about re-enacting his killings for the cameras in the style of old Hollywood movies, this disorientating documentary is both shocking and enlightening in equal measure.
Congo is a mesmerising character to follow throughout the film. An old man wrinkled and with fluffy white hair, it's hard to believe we're watching a man talking in detail about how he committed murder. But killed he most certainly has, demonstrating to the camera how he garrotted someone and later lambasting an actor for not properly rendering it during one of the film's sickeningly surreal re-enactment scenes.
Congo claims to have grown up with and have a deep passion for classic Hollywood cinema and each of the major movie genres is utilised in scenarios depicting how the killings took place - from a John Ford-style western and a darkly lit film noir to a hallucinogenic musical number with singing and dancing women coming out of a giant fish.
To find out Congo's story and deliver a straightforward documentary examining the horrors would be brave; to get the murderers to boast of and perform their crimes to camera is extraordinary. The strategy could easily have backfired if the perpetrators happily performed without showing the slightest remorse but through orchestrating these executions once more for an audience the cracks in Anwar's contented façade start to appear.
Initially declaring that he wanted to create something "more sadistic than cinema" that was both full of action and entertaining, re-enacting the murders through the supposed escapism of Hollywood cinema reveals not only the barbaric murders themselves but how violence is commoditised into something that can be consumed and accepted.
We're also presented with not just Congo and his fellow gangsters' recollections, but an examination of a current Indonesia where one ideology has emphatically triumphed over another. Congo is invited on to a cosy chat show to talk about the killings, and later on in a military ceremony the gangsters are praised for being "free men".
Again and again this is said by people throughout the film, suggesting that they feel it is good to be free from communism and the government. But through showing the re-enactments alongside the daily consumerist lifestyles of the killers, the deep wounds of the cathartic events of the mid 60s are put on display.
It's no surprise that Werner Herzog and Errol Morris immediately got on board as executive producers when they saw the film. This is daring and imaginative movie-making of the highest order.
Joshua Oppenheimer has crafted a phenomenal documentary that not only sheds light on a violent but forgotten moment from history but also exposes the power of film to not only tell stories but to uncover truths - in this case at the same time.
© Copyright IBTimes 2023. All rights reserved.