Opium cultivation in Afghanistan has hit a record high with farmers planting nearly 209,000 hectares of poppy across the strife-torn country, says a UN report.
Despite the decade-long international efforts to wean Afghanistan off the illicit drug trade, there was a 36% rise in output, according to the UN study - Afghanistan Opium Survey for 2013.
The sharp increase has come months ahead of the scheduled withdrawal of international troops from Afghanistan, fuelling fears that the profits in the drug trade will play a pivotal role in the upcoming presidential election in early 2014.
There are widespread fears that the US pullout next year will put Afghanistan into chaos and instability, worsening the security situation in the country facing Taliban insurgency.
Afghan Taliban, which taxes opium crops and protects the fields, has been one of the key beneficiaries of the drug trade.
"The short-term prognosis is not positive. The illicit economy is establishing itself, and seems to be taking over in importance from the licit economy," said Jean-Luc Lemahieu, the outgoing Afghanistan chief of UN Office on Drugs and Crime (UNODC), the body which published the report.
Afghanistan has been the world's largest cultivator of poppy, the crop from which opium and heroin are obtained. In 2013, it is likely to account for nearly 90% of the global supply. This year's harvest is estimated to be around 5,500 tonnes of opium, eclipsing 3,700 tonnes in 2012, said the UN study.
There was also a sharp increase in production in Helmand province, which now shelters half of the cultivation area. British troops had been stationed in Helmand with a special focus to curb opium production.
The farm-gate value of opium profits is set to increase almost by a third to $950 million - equivalent to 4% of Afghanistan's GDP in 2013.
"This is the third consecutive year of increasing cultivation. The assumption is that the illicit economy is to gain in importance in the future," added Lemahieu.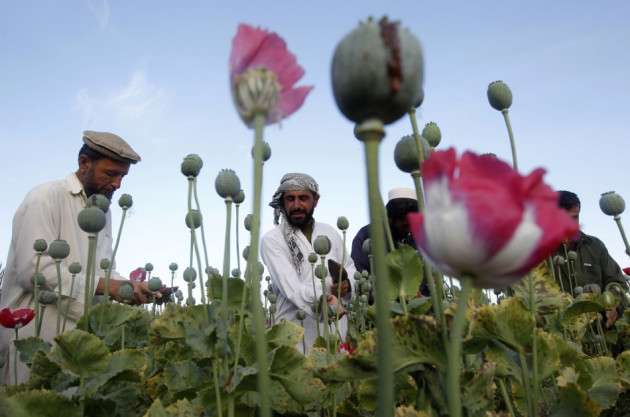 The latest swell in opium production has been linked to several factors including lack of enough narcotics programmes employed by Afghan administration, increasing opium prices globally and growing insecurity in the country over American troops' withdrawal.
Lemahieu said Afghanistan needs at least another 10-15 years to deal with the situation.
The UN official added: "If the drug problem is not taken more seriously by aid, development and security actors, the virus of opium will further reduce the resistance of its host, already suffering from dangerously low immune levels due to fragmentation, conflict, patronage, corruption and impunity."