The makers of the famed Air Display app for iOS - Avatron - have revealed an update to the utility to enable full support to the next-gen iPad.
Air Display supports use of the iPad as a secondary display for your Mac or Windows computer. The app developers have reportedly achieved good performance with the new screen-extending app.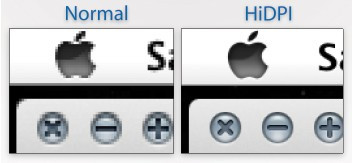 But the only major hindrance using a 2048x1536 pixels iPad as a secondary screen computer screen is, it would result in very small windows, text and user interface elements compared to a regular 1024x768 display. So, the team has included support for Lion's new HiDPI mode. HiDPI mode allows OS X to support high resolution monitors while retaining the same relative size for user interface elements, such as windows and buttons.
In other words, HiDPI mode will let the new iPad act like a 1024x768 point screen where each point is made up of 4 pixels. According to Avatron, Apple has already facilitated built-in support for HiDPI with some of its iOS apps such as Messages, wherein Retina-sized artwork functions in this mode.
Watch this Cool demo of Air Display Depicting How It Works:
Users simply have to choose "1024x768 (HiDPI)" mode in their System Preferences to take advantage of the new mode and overcome the limitations of the bigger display on their new iPad. Air Display is a Universal app, available for just £6.99 in the iTunes App store. Besides, a Retina-enabled version is expected in the forthcoming update.
Must Read:
Eight Things Apple is Bigger Than