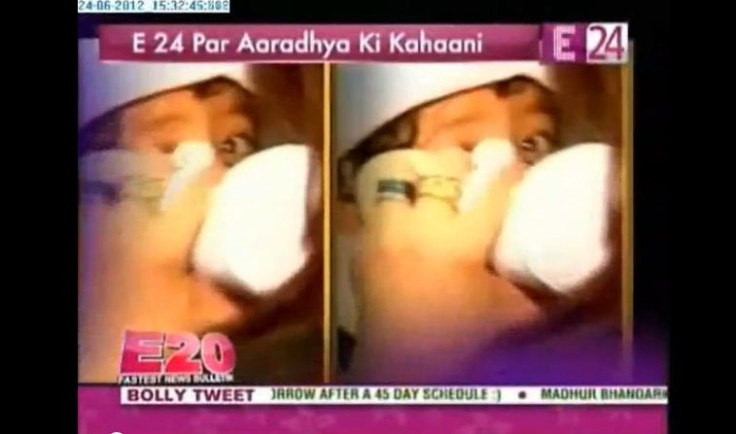 The world at last got a glimpse of Bollywood actress Aishwarya Rai Bachchan's daughter Aaradhya.
Indian music channel E24 claims to have caught Beti B on camera, who is seen gazing into the lens with curious "brown eyes" while being cradled by her mother in a baby-carrier. Even after her protective mother kept the child covered, the shutterbugs captured the tiny tot. (Click here to see the video.)
In a recent interview with BBC, Jaya Bachchan, Aaradhya's grandmother, talked about her looks and also revealed she called her Strawberry - because she looked like one when she saw her for the first time.
"Aaradhya looks like a bit of Aishwarya and a bit of Abhishek," the former actress said. She also told the BBC the newest member of the Bachchan clan was usually always in a cheerful mood and praised Aishwarya for her motherly skills too.
"Aishwarya is a hands on mom. She is sometimes overcautious. Aaradhya is not intimidated to faces. She is beautiful. I call her Strawberry because when she was born she reminded me of a strawberry. She is always smiling. Touchwood. Now she's trying to crawl and it's special to us."
Jaya also revealed that she teased her daughter-in-law by stating Aaradhya was the luckiest baby as she had a former Miss World as her caretaker.
"Sometimes I tease Aishwarya and I say well Aaradhya is a very lucky girl because can you imagine having a nurse like Miss World Aishwarya! I would also like her (Ash) to start going out but she is absolutely, totally hands down and doesn't depend on anybody which I think is great," she added.
Other celebrities who have been lucky enough to see the baby include Oprah Winfrey, Shah Rukh Khan and a few others who made a visit to the Bachchan house. Last week, Bollywood actress Madhuri Dixit joined the bandwagon of the fortunate who saw the toddler's picture.
During a guest appearance at dance reality show, 'Jhalak Dikhlaa Jaa', Abhishek showed Madhuri -who is one of the judges, his daughter's photo on his mobile phone. The actress was more than happy by seeing it and exclaimed 'wow', enough for all to be able to hear her.
Earlier this month Aishwarya and daughter were spotted shopping in London when a fan, Anisah Hussain met the actress at Bicester Village and also received an autograph.
"@juniorbachchan @SrBachchan met Aishwarya and Aaradhya at Bicester Village today! Got an autograph too," Hussain tweeted and went on to describe the seven-month-old toddler.
"@AshforeverNo1 Yeah i saw her lol she is really cute, she has pretty eyes and eyelashes! she's a bit browner than Aishwarya but very cute!" an excited Anisah tweeted.