Amir Khan is targeting a meeting with undefeated American Floyd Mayweather after his rematch with Lamont Peterson was cancelled following the confirmation of the fighter's failed drugs test.
Both boxers had agreed to be randomly tested for blood and urine by the Voluntary Anti-Doping Association ahead of the contest later this month, with Peterson subsequently testing positive for a banned steroid.
The duo were set for a rematch on 19 May following Peterson's controversial win last December, where he claimed the World Boxing Association and International Boxing Federation Light Welterweight titles from Khan on a split points decision, amid questions over the decision making of referee Joseph Cooper and the ringside appearance of Mustafa Ameen, who is alleged to have distracted scorer Michael Welsh.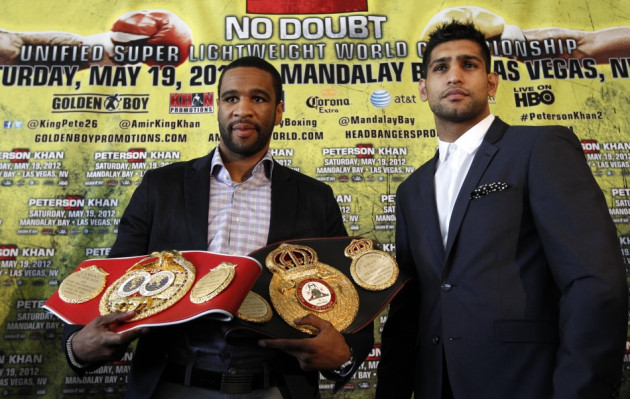 "This has upset me, because I wanted to settle the score and win the world titles back. They should at least give those world titles back," Khan told BBC Sport.
"I'm upset for the fans. There were over 5,000 people who were travelling to Las Vegas and there is going to be no fight there. It is a little bit disappointing. I feel for them. I wanted to win that fight for the fans."
A statement from Golden Boy Promotions said: "A failed pre-fight drug test administered by the Voluntary Anti-Doping Association (VADA), coupled with the Nevada State Athletic Commission's (NSAC) legal inability to hold a formal hearing on the matter of licensing Lamont Peterson for his Saturday, May 19 rematch against Amir Khan until Tuesday, May 15, has forced the cancellation of the event."
Khan, who has won 26 of his 28 professional fights, was hoping to reclaim the WBA and IBF Welterweight titles he lost to Peterson late last year and despite the cancelation of the bout an admission from his American counterpart that steroids were taken prior to December's fight in Washington, means he will at least have the opportunity to fight for the belts this summer.
"Lamont Peterson admitted that, in a letter and statement that he provided to the Nevada Commission, that he did take those testosterone pellets by injection on his hip back in November, less than a month before he fought Amir Khan for the first time," Richard Schaefer, Khan's promoter, said.
"That, of course, is shocking, and it will certainly prompt us now to seek a no-contest of the first fight and therefore get Amir reinstated as the world champion of both sanctioning organisations.
"The whole situation is really shocking and disappointing, and I feel really bad for Amir."
"Given the fact this procedure was taking place in November - a month before his first fight with Peterson - we are obviously going to ask the sanctioning organisations, the World Boxing Association and the International Boxing Federation, to rule this fight a no-contest and therefore give back the belts to Amir Khan - where they belong. I do hope the boxing organisations are going to do the right thing.
"Irrespective of that, of course, I will meet with Amir tomorrow and we are going to move forward, with a new opponent and new date and possible new venue.
"We're trying to do all of that within the next 48 hours or so. Amir will be in another big fight very shortly. The date will be some time towards the end of June, early July."
Having trained hard for the 19 May bout, Khan is ready to step into the ring this summer and is targeting Mayweather as a potential opponent.
The 35-year-old has won all 43 of his professional fights and is regarded as the best pound for pound boxer in the world.
Prior to the cancellation of his rematch with Peterson, Khan had already earmarked 2012 as the year to challenge Mayweather, who last weekend beat Puerto Rican Miguel Cotto by a unanimous points decision in Las Vegas.
"It's a fight in the future I'm working towards so let's get it on," Khan admitted. "We'll get this mess sorted and then get a fight in June or July and then move on from there - the end of year or maybe early next year with a big megafight against Floyd Mayweather,"
"First of all I'm disappointed because I trained very hard for this fight," he added.
"It was a big shock for me. My head was all over the place, I really, really wanted to win my titles back and have the fight. But the truth's come out now and it just proves that Lamont Peterson was a cheat really.
"It hurt me more than anything because I really did want to go in there and put on a performance and show the world how good Amir Khan is.
"The Nevada Commission have taken the licence off Lamont Peterson and they don't want him to fight in the next fight, so I think whoever I fight next they'll put the titles on the line or we still go through the process and we might get the titles back and the fight that we had last time will be a no-contest.
"I'm looking at fighting June 30. I'm in great shape now. I was looking forward to fighting next week. I'm already at the right weight and it was a tough, tough training camp.
"I was so fit and looking forward to this fight. I wanted this fight even when I heard he failed his drugs test, I did everything to get the fight on, but my parents and my team said to me 'look, at the end of the day Amir, it could be a risk to your life. It's not going to be fair to step into the ring with someone who is gonna to be on drugs and gonna be cheating'.
"The next fight for me will be June, July. I've got a meeting with Golden Boy Promotions over the next few days and hopefully we'll set a date."