Ancient statues destroyed by Isis in Mosul were 'fake', say officials
Originals are safely stored in the Baghdad Museum, says institute's director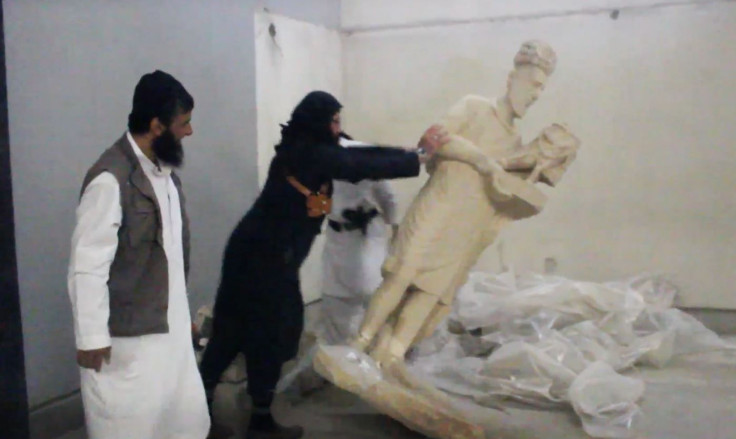 Ancient statues smashed by Islamic State (Isis) militants were plaster replicas, and the originals are safely stored in a Baghdad museum, said the institution's director.
A video released in February by the extremist Sunni organisation appeared to show militants in Mosul smashing 1,000 year-old Assyrian and Akkadian statues, drawing condemnation from the international community.
But the head of the antiquity department in Iraq's cultural heritage authority, Fawzye al-Mahdi, told German news programme Deutsche Welle that "none of the artifacts are originals".
"They were copies. The originals are all here," Baghdad Museum's director told the broadcaster.
The claims echo those made by experts after the video was released, with Mark Altaweel of the Institute of Archaeology at University College, London, telling Channel 4 news that the reason why IS was able to destroy the statues so easily is because they were made out of plaster.
"You can see iron bars inside," he pointed out "The originals don't have iron bars."
However, some of the statues are believed to be originals.
Mosul's exiled governor Atheel Nuafi told Iraqi media that, "There were two items that were real and which the militants destroyed. One is a Winged Bull and the other was the God of Rozhan," reports Al Arabiya.
The Winged Bull, which is seen being smashed with sledgehammers in the video, is probably one which stood at the gates of Nineveh in the 7th century.
"I think the Winged Bull is very important locally, because it's one of the few objects that hasn't left the country or gone to Baghdad," said Eleanor Robson, chair of the British Institute for the Study of Iraq.
According to the hardline Salafist doctrine which IS adheres to, the worship of idols is forbidden, and IS has destroyed a number of ancient sites, as well as Shia shrines and Christian churches in Mosul.
© Copyright IBTimes 2023. All rights reserved.